Cuddle Pullover by Lululemon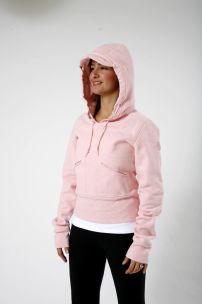 I'm not a crazy Lululemon junkie. I own none of their shorts, tank tops or pants. I do own this and another hoodie though and I really love them. The test of a great hoodie is in the hood and these are great. Lululemon hoodies are made to last using super thick cotton. They are preshrunk so you can toss then in the dryer. To be honest, it took me a year to put my other hoodie in the dryer. I'm obsessive with my clothes and wash anything I really, really care about in cold water and I hang it to dry. Oh and it's black, not pink like the picture.
This was another one my of post boxing day purchases. I don't buy much from Lululemon mostly because of how expensive it is. I have plenty of workout gear so adding more isn't really necessary at this time. I was surprised that size larger in this hoodie was $10 more. Since I fit in the cheaper smaller one, I decided to go with that.
Lululemon is a major Canadian success story
Yoga-inspired athletic apparel company lululemon athletica, was founded in 1998 in Kitsilano, Vancouver – one of the healthiest places in the world – by a group of visionary athletes, in response to the exponential increase of female participation in sports and the belief that yoga is the way to maintain athletic excellence into an advanced age. In fact, the first lululemon store not only featured a design studio / retail store but also shared space with a fledgling yoga studio.
Today, lululemon athletica manufactures, distributes and retails clothing via its own stores, and wholesales out to other retail stores in North America and internationally.