1964 PAC Sorel boots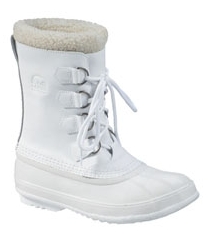 This was the most difficult of my boxing day finds. Aldo is selling Sorels, seems they had some partnership as the boots were branded with both logos. Anyways, I had no intention of getting white boots, but all other colours were sold out in my size. I found my size in white in 2 of the 5 Aldos I visited. They are damn popular this season. I was in a rush to find these things as they were on sale from $99.99 to $79.99 and there was an additional 25% off before 11a.m. That extra 25% worked out to $19.00 and the boots finally cost $59.99. Woot! I wasn't crazy on the colour at first, but I was thinking function over fashion. I wasn't stupid enough to feel the $40 extra was worth having brown Sorels.
These boots are light, very, very warm and best of all WATERPROOF. I will no longer cringe at those nasty, salty and slushy puddles at intersections. I will walk through them proudly laughing at the other suckers jumping around them, hee hee. 😀
I did some research on Sorel prices and availability before boxing day. I went into Coast Mountain Sports in the Eaton Centre and the Sales Associate I talked to had never heard of Sorels before. I wanted to ask him if he was from Canada, cause that don't make much sense to me. He did try to convince me that the $140 North Face boots were the way to go. $140 vs $59.00, sorry North Face, but your boot isn't even close to a Sorel boot.
About Sorel
Originally founded by William H. Kaufman Inc. in Kitchener, Ontario, Canada, Sorel has long been associated with the development and distribution of durable, comfortable, cold-weather footwear since 1908.
In the early 1960s, Sorel was the first to combine leather uppers, rubber bottoms and removable felt liners to make the warmest and driest winter boots available anywhere in the world. This This tradition continues with updates to classic products as well as the introduction of many new styles.
Since becoming a division of Columbia Sportswear Company in 2000, Sorel has expanded and now offers an exciting range of comfortable, functional and stylish outerwear and apparel. Classic designs, exceptional performance and great value mean Sorel apparel will soon be as legendary as our boots.
Sorel footwear and apparel meets the rigorous demands of today's active lifestyle…from snowmobiling and hiking to taking the kids sledding or skiing. At Sorel we will continue to earn the trust of consumers by constantly providing quality products that are warm, dry, comfortable, functional and affordable.
[tags]toronto, shopping, fashion, shoes, sorel, boots[/tags]