The Cube by EcoSmart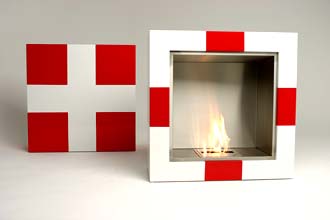 This is a freestanding, cube-shaped gas fireplace. What a slick product. What a perfect product, a fireplace that you don't have to give up if you move.
The Cube is a square shaped fireplace. It is a freestanding piece of furniture designed to accept the EcoSmart® flue less burner. The EcoSmart® Cube features a square fascia underlined by a stainless steel shadow line. The EcoSmart® Fire Cube is designed for installation in units, apartments, houses, and commercial premises including offices, bars & restaurants. The Cube comprises a completely stainless steel firebox with a cut-out to accommodate the EcoSmart® Burner. The firebox is mounted into an MDF outer section box that is coated with Care Top 35 fire resistant two pack solvent borne topcoat of any colour.
You can buy this fireplace or 16 others in Ontario. The Canadian distributor's contact info is
Company B Inc.
Unit 2, 255 Spinnaker Way
Concord Ontario L4K 4J1
Phone: +1 905 760 9987
Fax: +1 905 660 4944
canada@ecosmartfire.com
via Cool Hunting
[tags]GTA, Toronto, fireplace, design, furniture, home decor[/tags]