Wow, as an Adidas lover, I'm very excited about the adicolor Colour Series
In Spring/Summer 2006 Adidas Originals brings back an iconic footwear concept that celebrates the touchpoints of self expression, customization and unlimited personal involvement: adicolor. In two main bursts the Sport Heritage division re-introduces a classic collection of customizable footwear and takes a step forward by adding apparel and accessories to the capsule collection.
The original adicolor concept was launched onto the sportswear market at the Ispo Fair in Munich in 1983. At this time Adidas offered pure white footwear models with specially created quick drying and weatherproof pens. This innovative approach to training shoes allowed every consumer to interact and produce their very own pair of sneakers. For this reason the shoes from this collection have achieved cult status.
To reflect the endless style possibilities of adicolor, the range of 2006 will be enhanced by a set of comprehensive, sophisticated customization tools ranging from felt-tip pens to spray paints and more. In addition, the adicolor collection will be divided in two major parts, the White Series which refers back to the original concept and the innovative Colour Series. The latter will feature a number of collaborations as Adidas Originals has teamed up with a diverse group of partners, all icons from the world of fashion and art.
As the authentic customization concept, adicolor stands for personal expression that encourages creativity.
The adicolor products are rolling out in retail over the course of three months, starting on March 4th, 2006. The different models are available through various distribution channels and cover a range of price levels. (source)
So you can get shoes already pre-designed or get yourself a blank canvas and paint your own. If I was artistic I totally would get a blank pair.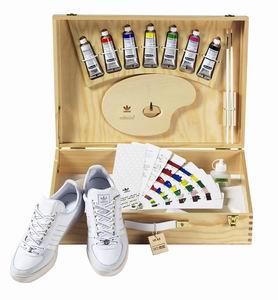 Here are a few of the shoes from the collection that I like
Green Series – G4 Kermit©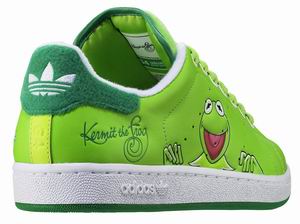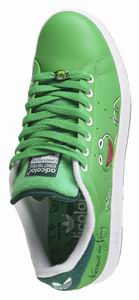 Kermit OMG!!!! There is even a track jacket to match. Not surprisingly they have Miss Piggy too.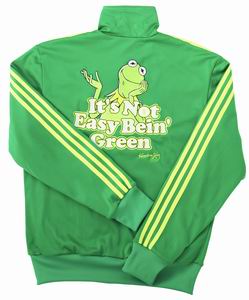 Green Series – G5 Camo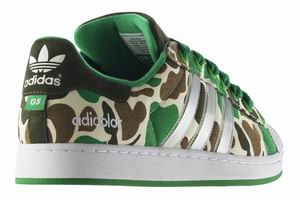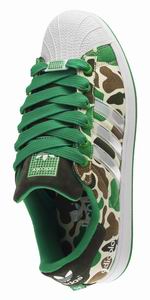 Yellow Series – Y4 Mr. Happy of the Mr. Men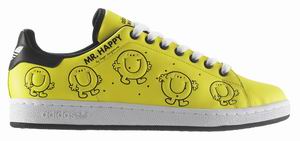 I must say thanks to press.adidas.com for all the images. Toronto needs an Adidas Originals store, Vancouver has one.