Gary Clegg sent me a message and asked me to review his product, The Slanket. I was surprised at first. Why would someone want my opinion. So I decided to give Gary what he asked for, my opinion on the Slanket. He had the decency to ask and he was the first to do so.
First off, what the hell is a Slanket? Basically, it's a blanket with sleeves. It's not a cuddle wrap. There are no buttons and zippers. It's dubbed "The best blanket ever". I have to agree. I fell in love with the Slanket at first sight, it hadn't even arrived at my house yet. I have a cuddle wrap. It's broken because the snaps have come off. No snaps, no arms. The Slanket didn't have the limitation and the arm holes are much more advanced than the crude cuddle wrap. Gary had me sold. All he needed to do was delivery on the quality side of the equation. The blanket is made from 300gsm (grams per square meter) polar fleece. It's extremely thick and warm. I am very impressed with the materials and construction. The stitching on the blanket is perfection. The size of the Slanket is accommodating to all people, tall or short.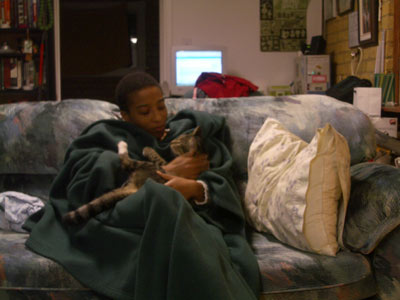 The Slanket is great for gamers, avid readers and tv junkies. I personally think the Slanket makes a great cat petting blanket as you can see from my photo. It's taking the world by storm and is now available in over 20 countries. I think this Christmas will be the one of the Slanket. It's perfect for the cottage and car camping. I can see Grandmothers and new Moms really liking the Slanket. It has been featured in numerous blogs, print and media outlets. They are hoping to get the word "slanket" in the Oxford Dictionary in 2010.
The Slanket gets a big thumbs up for me. First off your have a great design idea. This is a product everyone can use, young and old. Second you have a great quality product. Gary and his team didn't skimp out on the finer details; the materials and construction are excellent.
You can purchase The Slanket online for $48.95 + shipping. There are no Canadian distributors at the moment, but I can see that changing soon. The Slanket is a really hot item and many retailers are interested.
Thanks Gary for asking my opinion. I am willing to review products for anyone who feels my opinion is worth something, just drop me a note using the handy contact form.