A pearl and silk necklace by Knotty Girls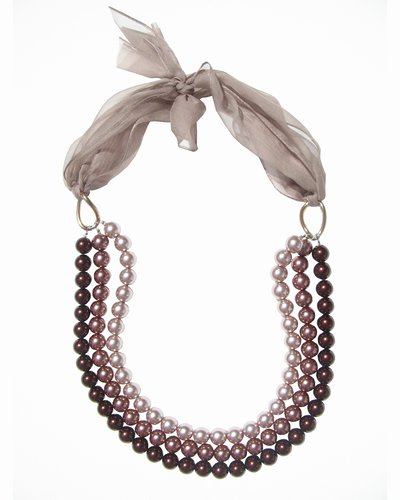 I first saw this necklace at the Style Revolution Sale. It was held at the Design Exchange. The quality of the vendors at the show was amazing. It's a shame that the turnout wasn't great. The financial district on a weekend is devoid of people. If they had held it during the week, they would have made a killing. I work in the financial district. Women like to shop on their lunch hours. Look at the Winners in Scotia Plaza between 12pm – 2pm. Madness.
This necklace comes in red/black, black/grey, purple and black/navy. Danielle Kerr loves ribbons and they are the focus her designs. She only uses luxury ribbon from places like Mokuba and silks from B.C. Semi-precious stones, base metals, glass beads, yarn or silver can be accents to the ribbon.
You can purchase Knotty Girls at:
Made You Look
SnazzyGirl
Nathalie-Roze and Co
Knotty Girls will be at the following shows:
November 26, 2006: The Artisan's Gift Fair, The Tranzac in the Annex
December 2, 2006: The Artisan's Gift Fair, The Tranzac in the Annex
December 7, 2006: Speakeasy Holiday Sale, The Gladstone Hotel
December 9 & 10, 2006: The Artisan's Gift Fair, The Tranzac in the Annex
December 16, 2006: Last Minute Craft Fair, Trinity-St.Paul Church @ Bloor & Spadina
December 17, 2006: The Artisan's Gift Fair, The Tranzac in the Annex