Chunky heels from Nine West
I picked up a pair of navy heels the other day. It wasn't an easy search as shoes are mostly brown, burgundy, tan or black these days. There are a lot of cobalt shoes hanging around but not too much in navy. I found these shoes at Nine West. The picture show is grey but the ones I have are navy. I like the fake reptile print in them also.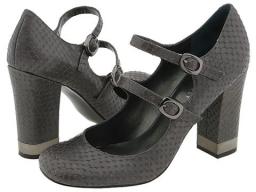 They are basically knockoffs from the Chloe Spring 2007 season. They removed a strap, changed the colour and ditched gold for silver.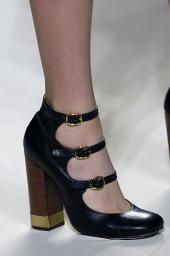 I like that the chunky heel is back this season, they are so much nicer to walk in, even at 3.5 inches.
I also tried on these Prada Fall 2007 knockoffs but they didn't look that great on me. The original Prada's for comparison, they changed the colour, but it's basically the same shoe.
click the thumbnails for larger images