Eee PC 2G Surf
I love my little new toy. It's not a laptop but a mobile internet device. It's the size of a tradepaperback, weights about a kilogram and I'm in love. I was debating about getting a laptop, but I haven't been jazzed up about laptops since Apple put out 12″ ones, they were sweet. I didn't want to buy a used mac so I decided to evaluate what I really would use the thing for. Can you guess?
That's right, mobile blogging and general keeping up with email. I realized that I just wanted to be able to browse the internet, blog and check email. I started to research my options and saw the Eee PC around a lot.
The price is awesome, the comes in a range of colours and the size is perfect. It runs a GUI version of Linux. I've only really used Linux in a terminal and the GUI version is like any other GUI based OS, like Windows or Leopard. You basically just plug the thing in and go, nothing to install. The OS starts up in EasyMode which is nice for people who don't know what they are doing and kids. I immediately started searching for internet for ways to modify this thing and make it less dumbed down.
I picked up the base model which has 2GB of solid state storage. The OS takes up about 75% of that space, but it has pretty much all the applications you'll need and some you won't. You can get versions that go up to 8GB and include webcams. Memory is expandable via usb keys or SD cards.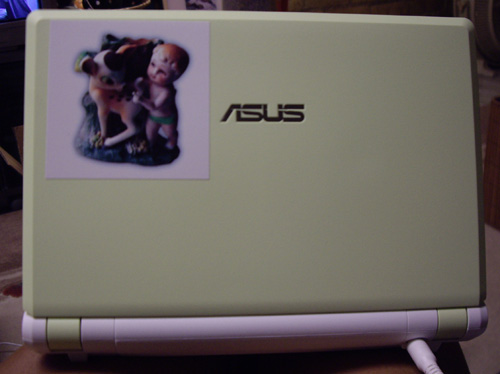 I love putting stickers on my computers so I was glad when my goldenfiddle stickers showed up in the mail. Spencer sent them to me all the way from Georgia and I was surprised to get three of them. Thanks so much, you rock! I've been a fan of Spencer's blog for awhile now and he is never passed over on my RSS feed.