Yoga Jeans from Second Clothing.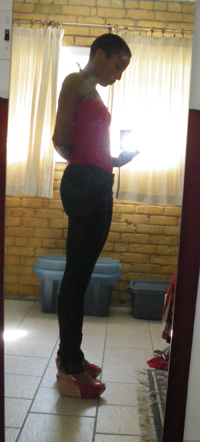 They came out last year amid the yoga buzz but somehow I missed hearing about them. It's only after I received an email from Jennifer from Mudsharkstreetwear.com that I became intrigued. I was looking for another pair of dark skinny denim for the fall to wear with boots. This is what the website says:
Jeans are not generally associated with perfect comfort. They tend to impede the large movements of the body and restrain and ususual stretching. But Second has changed all that!
Combing fashion and comfort, Second Yoga Jeans are perfect for any lifestyle with an emphasis on well-being, flexibility and relaxation.
Made of top-quality denim containing 97% brushed cotton and 3% elastane, Second Yoga Jeans hug the curves of the body in any position. They fit the ups and downs of a hectic day and metamorphose into laid-back fashion in the evening. Second uses denim with 92 percent shape memory, while the industry standard is only 64 percent. And thanks to their revolutionary treatment, the cuts and styles actually shape, hold, and lengthen the body and helps flaunt just the right areas. Multifunctional and perfectly malleable, Second Yoga Jeans are offered in mid and low rises, with the option of a boot cut, straight, flare, or skinny leg.
SECOND uses natural materials and organic fibres to protect the planet. ) Every Second Jeans is hand crafted on an individual basis to give them an authentic vintage look. With this unique attention no two Second Jeans are exactly alike.
Second Clothing is a Canadian company based out of Montreal. They produce the merchandise in Montreal which is a bonus. After trying on a pair in a different style, I was all prepared to purchase some when Second decided to send me some to try out. So are they worth the hype?


I'm always wary of anything that uses yoga in it's marketing. I don't practice yoga (I appreciate it's benefits, but I'm just not interested) and don't follow the whole lifestyle aspect of it either. Removing that aspect of the marketing I can say yes, the jeans live up to what they say. It also depends on the kind of denim wearer you are. I'm a huge fan of tight fitting denim much more so than relaxed and looser fits. You won't see me sporting the boyfriend jean.
The skinny style Yoga Jean looks really tight in the photos but they are extremely comfortable. To the point where you forget you are wearing them. I'm reminded of shapewear, the denim version, as there is a lot of smoothing and shaping with the body happening. Great butt lift girls! When I first tried them on, I was surprised at how long my legs looked; it was that noticeable, and this was before I read the website and the claims to lengthen the body. They also fit a bit small. I'm usually a size 27 or 28 in denim, but with Second I'm a 26.
Can you workout in them? The denim is flexible enough that I could probably play squash or something in them, but I wouldn't want to. Denim, no matter how light and flexible is still too heavy to be comfortable in prolonged activity where you are sweating like a dog. Cotton doesn't wick water away to well.
Are they worth $110.00? I say yes for the following reasons:
They are Canadian and manufactured in Canada
The fit!
You can get Yoga Jeans in a variety of cuts online from Toronto based, Mudshark Streetwear.
Edit: I changed the title from "i got.." and changes this to a geekiviews post. That's the reviewing section of the site. Traditionally "i got…" posts are things that I've purchased. The post url will not change so any linking done will still be valid.