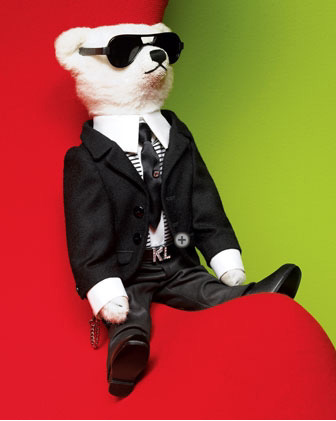 I'm a big fan of the Kaiser.
One of the world's most iconic toy companies, Steiff, has paired with one of the world's most iconic fashion designers, Karl Lagerfeld, to create the most fashionable teddy bear on the planet. Less than 2,500 made and sold worldwide.

Limited-edition Karl Lagerfeld Steiff bear includes:14.5″H bear with jointed limbs, constructed of the finest alpaca wool. A miniature outfit designed in collaboration with Karl Lagerfeld, including black denim jeans, flannel jacket, white shirt, Swarovski® crystal-studded silken tie, leather belt with Swarovski® crystal-studded KL buckle, and tailor-made leather boots. Miniature sunglasses in the style Karl Lagerfeld himself wears. Special black-and-white gift box with KL and Steiff logos.Scribble of the bear, drawn and signed by Karl Lagerfeld.
image: neimanmarcus.com