During BUY LOCAL WEEK December 1-7, think LOCAL FIRST!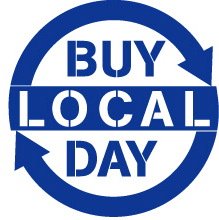 Ten Reasons to Buy Local

1. Money spent at locally-owned businesses goes around longer in the local economy as local business people pay for all kinds of local services, spend their profits and pay taxes locally. Purchasing locally helps grow other businesses and the Toronto tax base.
2. Local businesses produce more income, jobs, and tax receipts for local communities than big box stores do.
3. Non-profit organizations receive an average 350% greater support from local business owners than they do from non-locally owned businesses.
4. Supporting local businesses preserves the economic diversity of our communities and the unique character of our neighborhoods.
5. Local businesses have a reduced environmental impact because they can make more local purchases requiring less transportation.
6. Local businesses yield two to four times the economic benefit to you, the local resident, compared to non-local businesses.
7. Local businesses are owned by people who live in this community, and are more invested in the community's future.
8. Local businesses often hire people with more specific product expertise and offer better customer service.
9. Competition and diversity lead to more choices.
10. Local businesses require comparatively little infrastructure investment and make more efficient use of public services.