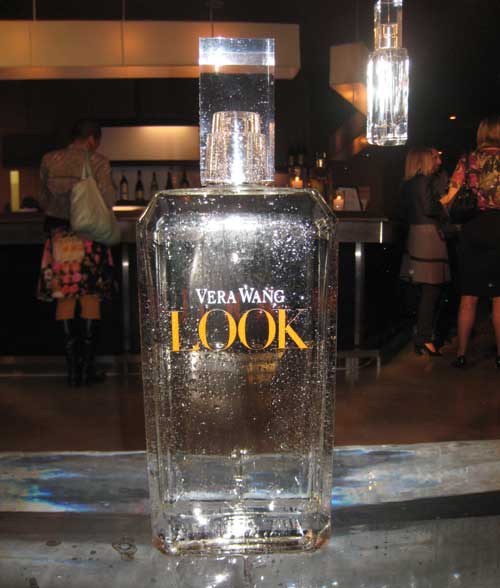 I went to the launch of Vera Wang's new perfume, Look. It was sponsored by Fashion Magazine and held at Panorama. It was a fun event and I spent time with friends and enjoyed the view. That's me in the picture at the bar. Yup, the mustard tights. Love them! The skirt was a present from the owner of Print Vintage. It was originally a halter top dress that was unwearable. She couldn't sell it and gave it to me one day when I was buying a dress. I got my handy sewing friend Danielle (finalfashion.ca) to turn it into a skirt. It's pretty kick ass.
There was a large ice sculpture display for the launch to show off the glass prism characteristics of the bottle. The ad campaign doesn't bother me and that's a very rare thing for perfume. Coty developed the fragrance. I'm by no means a perfume expert so I'll let them describe it for you:
Look was created in cooperation with Firmenich. It introduces notes of mandarin, watery greens, litchi and golden deliches apple in the top notes. The heart incorporates lily, freesia and jasmine, while the base notes introduce a rhapsody of sweet vanilla, musk, oak moss and patchouli. (source)
The perfume itself isn't heavy at all. It has a very light scent that isn't repugnant. I actually like it even though it's not something I would normally gravitate too. Flowerbomb and Hot Couture are some of my favs right now.