Stop Talking cards by Set Editions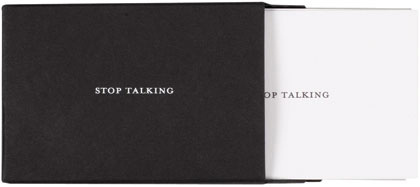 I can't wait to use these.
With the creation of the Stop Talking card, Set Editions was founded by Alison Riley in 2004.
Set Editions offers letterpressed cards, foil stamped postcards, and other little stuff. Using recycled and post-consumer papers, we strive to offer intelligent designs at an intelligent price for those looking to send a card any old time.
EDIT: I totally forgot to tell you guys where I got these. The Drake Hotel's General Store, it's awesome!