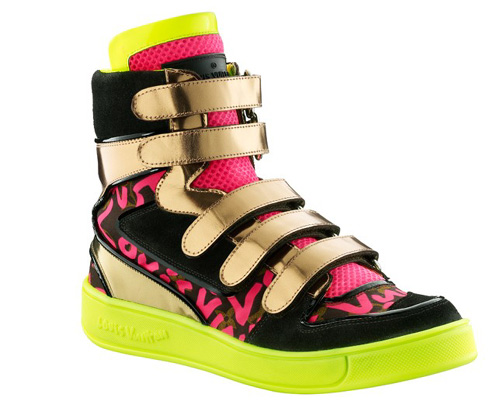 Louis Vuitton is revisiting a classic, the 2001 collaboration with artist Stephen Sprouse. I am very pleased with this sneaker in the collection. It's obnoxiously perfect, much like the Vegas shoes. I prefer the items with the graffiti lettering but I don't like the roses. For the record, I only enjoy the only Louis Vuitton classic monogram print from Takashi Murakami and Stephen Sprouse. I'm not a fan of the print otherwise and I prefer the Damier Azur print much more. Check out Marc Jacobs talking about the collaboration on youTube.
Marc Jacobs and Louis Vuitton are paying homage to Stephen Sprouse.

To show their admiration for the late designer and artist, next month, Jacobs, Vuitton's creative director, is using his hit 2001 collaboration with Sprouse for a new, limited edition collection of accessories and ready-to-wear….This comes at a time of renewed buzz about Sprouse, whose graffiti prints and Day-Glo clothes became a defining aesthetic of the early Eighties. It coincides with a retrospective — called "Rock on Mars" — at Deitch Projects' 18 Wooster Street gallery from Jan. 8 to Feb. 28, and "The Stephen Sprouse Book," by Roger Padilha and Mauricio Padilha, due out from Rizzoli New York on Feb. 1.

The impetus for the new line came when Deitch approached Jacobs and Vuitton about doing something related to the retrospective.

"I proposed putting together a Vuitton version of the Pop Shop, which was Keith Haring's concept…not reissuing products that we had done with Stephen, but doing things that were similar or new," Jacobs said.

Sprouse died in 2004, and the new tribute pieces, which hit Vuitton boutiques worldwide Jan. 9, pick up almost seamlessly where the 2001 collaboration left off.
image and quote source from wwd.com article, Vuitton Brings Back Sprouse