Before the holiday break I was send a package that contained the new Lancome Pink Irreverence Spring 2009 collection. I really did squeal when I opened the package, black and pink OMG. This is the first collection with the new make-up Artistic Director, Aaron De Mey.
This collection is cantered on a radical duo of strong colours: pure fuchsia, in homage to the emblematic rose, and sparkling black, inspired by the volcanic sands of Piha Beach in New Zealand, from where Aaron De Mey originates.

"I love opposites and extremes, the clash of colours and textures", explains Aaron De Mey. "I chose this vibrant fuchsia as a tribute to the Lancôme rose. As for Piha Black, apart from the black-sanded beaches where I grew up, this colour also echoes a multitude of references which have influenced my work: the punk culture of London in the 70s, the smoky eyes of Marlene Dietrich who created her own black by burning a cork …"
Price list from left to right in above photo:
Le Vernis – Piha Black $20 (Limited Edition)
Laque Liner -, Pure Black $29 (Limited Edition) and Piha Sparkle $29 (Limited Edition)
Color Fever Gloss – Piha Black $29 (Limited Edition)
Pink Punk and Black Palette – Irreverent Madame $52 (Limited Edition)
Laque Fever – Furious in Fuchsia $32 (Limited Edition) and Pink my Ride $32 (Limited Edition)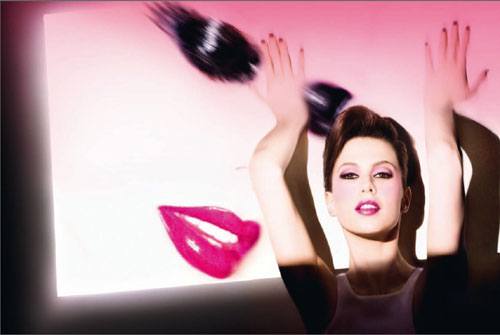 Laque Fever
The fruit of six years of research, the Lancôme Laboratories have developed an exclusive formula for Laque Fever…Laque Fever is a concentrate of pure, vibrant and ultra-shine colour, which offers ultimate lasting hold for 6 hours. Concentrated in colour pigments, the Laque Fever formula smoothes lips and adorns them in pure colour, with perfect coverage. Rich in pearly pigments which vibrantly reflect the light, Laque Fever creates a unique multi-dimensional effect, for never-before-seen shine. Its fluid texture also ensures long-lasting comfort.

For an optimal make-up result and glide-on application, Lancôme has designed the Soft Sculpt high-definition applicator which also ensures impeccable lip contour definition…Feminine and delicate, Laque Fever's fragrance opens with a fresh harmony of bergamot and lychee, carried by voluptuous middle notes of rose, raspberry and apple, rounded off with a luxurious wave of white musk and vanilla
I really do like the Laque Fever and the applicator. My favourite colour alone is Furious in Fuchsia. Pink my Ride is way too frosted pink for me to be wearing alone. The lip colour does stay on for a long time, but it is drying and I would use a gloss for it. The smell as pleasant as the description.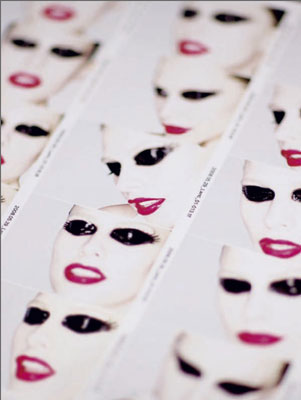 Color Fever Gloss Piha Black
His inspiration: the black sands of his treasured Piha beach in New Zealand, and the singular beauty of Marlene Dietrich, who used burnt cork ashes mixed with balm to create the translucent black eye shadow which gave her that irreverent Hollywood look

Impertinent and bold, Color Fever Gloss Piha Black lends itself to every look: it can be applied alone for intense light and dark effects, or as a topcoat to give depth to red lips. This season's must-try: overlay it with Color Fever Rock Icon Fuchsia, for Piha Fuchsia, a unique and vibrant pink, heightened by the intensity of black. The Pink Irreverence collection also includes a clear Color Fever Gloss, a subtle, beautifying touch for naturally luscious lips.
I love the Color Fever Gloss in Piha Black. I wore it to a party and a friend told me that it was perfect that I was wearing black lip gloss just like my heart. I wasn't sure if that was a complement or an insult. Oh well, it's not for everyone, but I like it. It's not as intense as the black lipstick in YSL Fall Winter 2008 collection, it's much lighter than that. I have tried the layering combination and I'm loving it. The Laque Fever in Pink my Ride is so much better when combined with the Piha Black gloss.
Le Vernis Piha Black
Revisited by Aaron De Mey, the famous Lancôme Le Vernis imitates the twinkling volcanic sands of Piha Beach for a sparkling, sequined effect within intense black. This season's essential to ensure chic, impertinent allure…In the Pink Irreverence collection, Le Vernis is also available in two pure pinks: Fuchsia and Pale Pink.
The nail polish is pretty standard. It's not exceptionally sparkling as the literature states.
The press material I recieved also includes some make up tips for lips and eyes that I'll pass on to you.
Reinvent Lip Volume – The two pink shades can be worn alone or layered. Applied with the fingers, they create a very natural result and provide a sophisticated look with ultra-luscious lips when applied more generously.The darkest, Furious in Fuchsia, is bold and daring; the lightest, Pink My Ride, is sexy and voluptuous. Used as a topcoat, on the centre of the lips, they give intense and sensual volume. I just love using products in an unexpected way, like applying these lip colours as a shimmering blusher on the cheeks in order to light up the whole face. Firstly I work small amounts onto my hand and then apply to the face with my fingers."
A twist on the smoky eye – "The Pink Punk and Black Palette is perfect to create clashes between colours and textures using the three matte pink and sparkling black eye shadows. By varying the intensity, we can define the eyes in a subtle or sophisticated way.The most daring women can use vibrant fuchsia all on its own.Equally we can use the three colours together by first placing the lightest at the centre of the eyelid to perfect the outline of the eyes, then by applying the black eyeshadow at the root of the lashes to bring intensity to the look: it's my very own pink take on the smoky eye classic.My other top tip: play around with the three pink tones on other areas of the face, by applying the darkest on the cheeks and the lightest just above so that the face is sculpted and lit up with light."
After Spring 09, Laque Fever will become part of Lancôme Permanent Collection. At this time, the names of limited edition shades from Pink Irreverence Collection will change.
Available at Lancome.ca, Department Stores and Selected Pharmacies as of February 2009.
images: myself and courtsey of Lancôme Canada