Swatch – Live And Let Die (1973)
Swatch is doing watches with a James Bond theme. I love the Live and Let Die watch.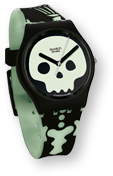 About Baron Samedi
The legendary figure of Baron Samedi is a mischief-maker who both tempts and punishes humans. Dr. Kananga employs a man who claims to be Baron Samedi to instill fear in his minions and to protect his thousands of acres of poppy fields.