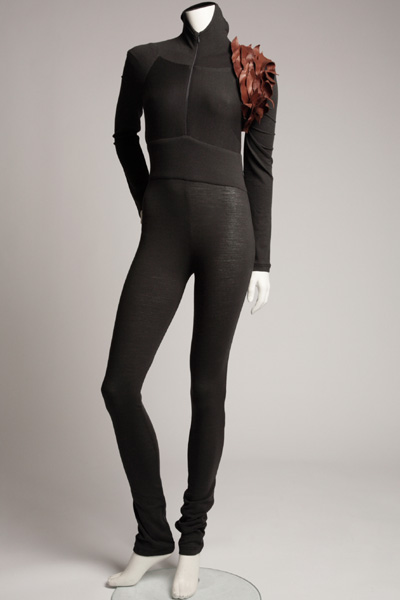 I'm loving the Thieves bodysuit. The one pictured is wool, but it also comes in bamboo. It's ridiculous but I want it. It's very sci-fi.
Thieves is part of Shop Sustainable this holiday season
Shop Sustainable is a city-wide initiative that challenges consumers to shop ethically this holiday season. Its goal is to raise general awareness for eco friendly products, and at the same time promote many Toronto based and online retailers who carry them. The program is a collaboration of Fashion Takes Action and Evolution Green.

It might seem like eco friendly products are hard to find, but in reality there are several Toronto based retailers who make doing the right thing a lot easier for consumers. Shop Sustainable has something "eco" for everyone, including adult and children's clothing, toys, personal care products, products for the home, coffee, chocolate, stationary, gadgets and gear and more.

The retailers participating in Shop Sustainable include: Baby on the Hip, Bullfrog Power, Caterpillar Baby, Chocosol, Daily Apple, Eco Flora, Greencricket.ca, GreenIsBlack.ca, Grassroots Store, I Recycle Computers, KaiKids.com, Kids on the Hip, Lileo, Merchants of Green Coffee, Me To We Style, Mountain Equipment Co-Op, Pistachio, PlanetForward.ca, Preloved, Sugar Moon Salon, Thieves, worldSALON, Zero Point and 889 Yonge. In addition, Sporting Life's uptown location is participating as they carry the eco friendly, Canadian made clothing line Guats, who is a sponsor of Shop Sustainable.

In addition to feeling good about doing the right thing, Shop Sustainable is offering further incentive via an online contest opportunity. Consumers can visit http://www.shopsustainable.ca for their chance to win a gift basket valued at over $1000, full of eco friendly products from the participating retailers.
image: thieves.ca