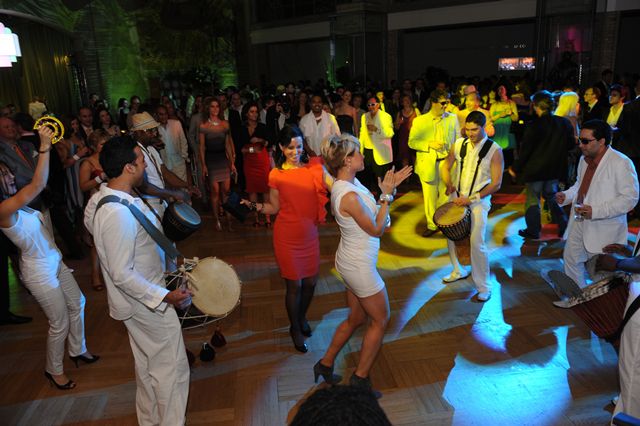 I'm very excited to be attending one of the hottest parties in the city, Prom at the ROM, PROM V: NOIR. I'll be bringing my trusty photographer Paul Baik with me as we try to capture the spirit and fashion of the event.
Welcome to the dark side of the ROM with PROM V: NOIR, a thrilling night of dramatic glamour and cinematic fantasy inspired by the ROM's captivating collection of winged creatures in the newly revamped Bat Cave and the recently opened Life in Crisis: Schad Gallery of Biodiversity.

Hosted by MTV's Dan Levy and Jessi Cruickshank, hundreds of YPC members and guests will take a sensational step back into vintage Hollywood complete with private eyes and femmes fatales. Experience the melodrama of a dazzling Golden Age film première—with a contemporary twist—as you pose for a mob of flashbulbs on the black carpet, investigate tempting diversions in dark shadows, sip swishy cocktails, and shimmy the night away on a fierce dance floor to the sounds of a live Big Band and stellar Toronto DJs.

Channel your inner Bacall or Bogart and join us as we turn down the lights and light up the party on March 27, 2010.

Tickets
VIP EXPERIENCE 8 PM
YPC Member $275
Non-YPC Member $295
VIP tickets include a private viewing of the newly revamped Bat Cave during Earth Hour and access to the Director's Cocktail—a sultry jazz supper club experience featuring a decadent tasting menu and bar. The star treatment continues with private Green Room Bar access throughout the PROM party.

PARTY 9 PM
YPC Member $125
Non-YPC Member $150
Party tickets include swishy cocktails and smashing entertainment. Get ready to shimmy the night away on a fierce dance floor to the sounds of a live Big Band and
Toronto DJs.
PROM V: NOIR
March 27, 2010
Royal Ontario Museum, 100 Queen's Park
Historic Rotunda Entrance
Event ends 1 AM
Tickets can be purchased on the PROM website