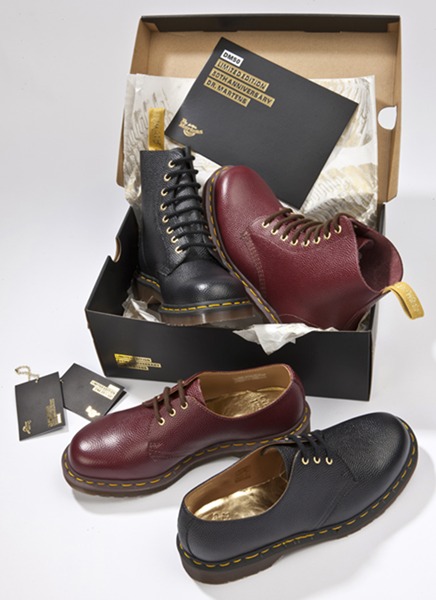 50 years of Dr. Martens shoes. Everyone has their own story with Dr. Martens (if you don't, you really should). My first pair were patent leather oxfords. I loved them to death and they were a major part of my "house uniform" in my early high school days. I soon moved on to the boots, increasing the number of holes and buckles. I had a brief period where I was Dr. Marten free but that changed with Final Fashion's Docs (You can order the Final Fashion Docs online). Docs hold a special place in my heart. They were part of so much joy, angst and body surfing in my life. They are classics that will never go missing from my closet again.
To celebrate their 50th Anniversary Dr. Martens are launching a commemorative limited edition footwear collection.  The collection consists of two styles – the iconic 8-eye 1460 boot and the classic 3-eye 1461 shoe, both of which are presented in Black and Cherry Red colours – those synonymous with the Dr. Martens brand.  The leather used is a rich premium Polished Pebble that will feature exclusively on this range.  The trims of the footwear will make use of gold eyelets, lace-ends, heel-loops and a metallic gold footbed – all inspired by the long-established traditions of using gold when celebrating a 50th Anniversary.Each style will be restricted to limited runs of 1,460 pairs per colour for the boots and 1,461 pairs per colour for the shoes globally.  To add extra cache to the collection, a limited edition box will accompany the product, as will a certificate of authenticity personally signed by the brand founders/owners, a bespoke swingtag and gold footprint tissue paper – ensuring this collection establishes itself as a genuine collector's item for those brand enthusiasts and aficionados alike.  Handcrafted in the original UK factory in Wollaston, Northamptonshire, the product will be positioned at $240 for the 1460 and $220 for 1461 respectively.   The product will launch on Dr. Martens 50th Birthday – 1st of April 2010 – and will be globally distributed through Dr. Martens stores and selected retail partners.
I got access to some vintage Dr. Martens Ads.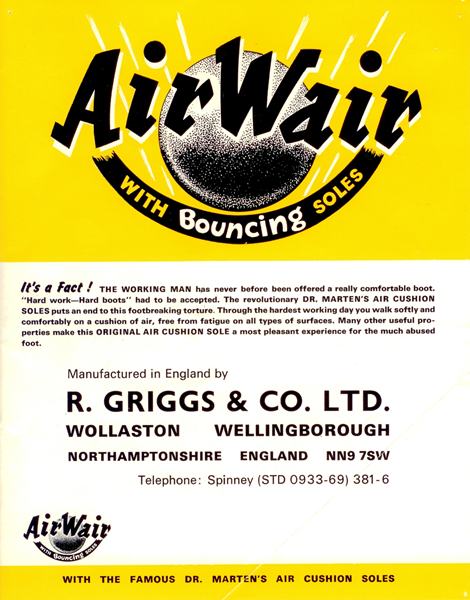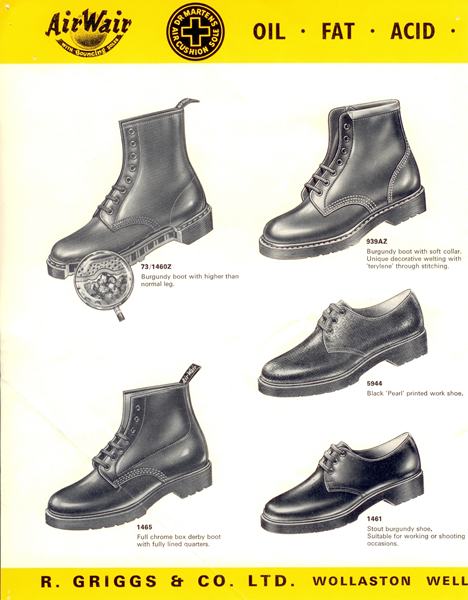 This wouldn't be a Dr. Martens celebration without music being involved.
Dr. Martens and music have been closely associated for 50 years. Now Dr. Martens has enlisted ten contemporary bands and ten film directors to help celebrate its birthday. On 1st April 2010 Dr. Martens will be releasing some newly recorded music and videos onto the internet. These tracks will be a mix of contemporary takes on ten cult classics songs. The musicians are a diverse group of talented artists from across the globe, representing different musical genres. The film directors, established or emerging, are known for their originality and innovation. The result is a collection of music and videos that reflects the broad range of groups who have adopted and customised Dr. Martens over the last 50 years.
There are 3 tracks and videos out now and you can see them on the 50 years of Dr. Martens website. I've posted the two I like.
You can pick up the 50th Anniversary Dr. Martens from Neon and Get Outside in Toronto.
Tell me about your Dr. Marten story in the comments. What was your first pair?