I heard about magicians at Hermès on twitter earlier last week. I freaking love magicians so I made a mental note. I didn't make concrete plans to see them immediately so I forgot about it. Fast forward to this past weekend and I'm walking around Yorkville with The Oracle. We started noticing people wandering around with silver horse balloons and orange ties. The Oracle said they were from Hermes. How could they not be with the iconic orange and horse motives.  That is when I remembered the magicians. I needed a balloon and I needed to see the magician. I dragged The Oracle into Hermès.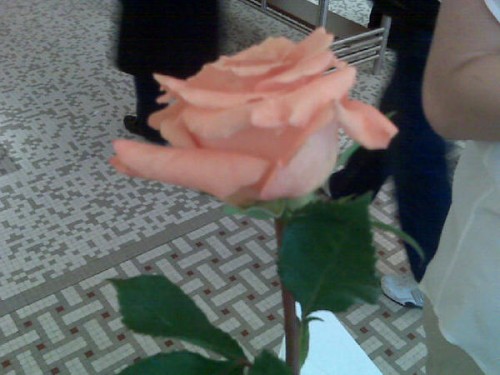 Sure enough there were balloons and a magician. I discovered the event was a promo for the Sprockets Film Festival Family Weekend.  Hermès is a sponsor.  There were colouring books for the kids, cookies and even a cake. We chatted with the store manager for a while and the magician came over to perform tricks for us. I was acting like a total kid, jumping up and down and laughing hysterically at the sleight of hand. The magician was from France and pretty cute. I got an orange rose as a result of one of the tricks.
One of the sweet saleswomen in Hermès got me a balloon. I was very happy. It's still inflated and floating 5 days later.  I got a lot of looks from people as we continued shopping and on the subway home.  They were just jealous they didn't have a balloon.
I also managed to get one of the colouring books and crayons. It's amazing what a simple Hermès ribbon can do to 3 crayons.