I was asked to provide a short quote on trends during LG Fashion Week for the China Textile News Weekly Magazine. I want – I got has made it to print in PRC. Ha Ha.
Started their initial issue in 1986 and has been a publication of both domestic and international delivery ever since. As a weekday publication Monday to Friday, it is the only comprehensive and giant newspaper in China specialized in the textile industry. China Textile News mirrors the economic performance in the textile and apparel industry in a complete and prompt manner, and timely gives out the governmental policies and regulations with regards to the growth production and performance of the textile industry. It also provides the readers with textile information from domestic and international markets with news coverage extended to three important aspects: apparel home textile, industrial applications and to textile machinery raw materials intermediates and finished products/markets; also going further to management operation science and technology and corporate culture.

Circulation: 200,000 copies per issue/day.
200,000 copies a day, that's pretty crazy.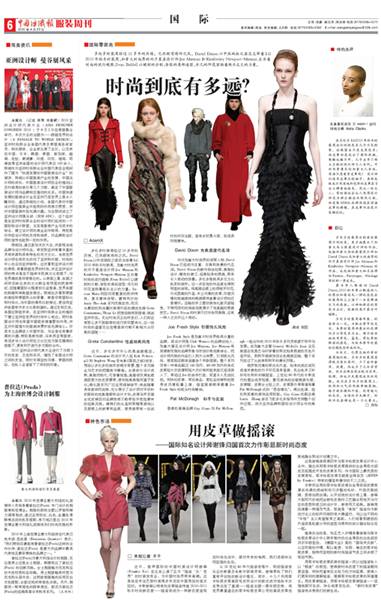 So you wondering what I said. Here's the English translation.
Black and fur were two very strong trends that permeated the collections at LG Fashion Week Fall 2010. Most collections used a lot of black or very dark colours. Surprisingly, the camel coat trend didn't take hold in Toronto like it did internationally. Fur was everywhere and LG Fashion Week was following right along with this huge international trend. The question was "who wasn't using fur?" Designers used it as accents on sleeves, shoulders and accessories. Sometimes the use of fur seemed a bit contrived and only done for trend sake. Then there were other designers like IZMA who perfected its use.