Oh my god, I better not miss this flight. I'm standing in line for security checks; it's 7:30am. It's Monday morning and I'm hoping to catch my 8am flight to New York. I'm impatient and freaking out. I clear security without much time to spare and I'm running to gate 151, hoping that boarding hasn't closed yet. I didn't even close the clasp on my bright pink sandals. Amazingly they don't fly off my feet. I slow down a bit when I see a lineup of people at the gate. Thank god, still time. I laugh to myself. This is the start of an amazing day. I love my life.
I'm going to New York City for the day. I leave Toronto at 8am and I the return flight is at 7:30pm. This trip is the product of a fucked up week, to put it mildly. The day after the earthquake I receive an email from Foujan at Matchstick. There may be the potential for a blogger to be sent out to NYC to join Charles Khabouth owner of Ink Entertainment and Alessandro Munge of Munge Lunge Design Associates for a part of their furniture shopping trip on Monday June 28th, the email reads. All expenses paid, of course. My eyes pop out of my head. Wow, wow, wow. What a great opportunity. I say yes before I even clear it with my boss. I know she'll be cool since I would be working from home on the 28th due to G20 crap. If she's not, well I'll have to get inventive. It didn't get to that point and I had my Boss's blessing to have fun. Charles is working on his Bisha Hotel and Private Residences project and Munge Lunge are the interior designers.
Real estate development leaders Sam Herzog and Mel Pearl (Lifetime Developments) and Nightlife impresario Charles Khabouth (INK Entertainment.) introduce a new private label hotel and residence brand that will redefine modern luxury. Named after Khabouth's childhood nickname, Bisha represents that voice inside all of us that pushes us to do things differently and to live by our own rules.
Rising to 41 storeys and designed by award-winning Wallman Architects and Munge Leung Design Associates, Bisha will be a coveted new address in the heart of Toronto's Entertainment District. Glamorously forward and seductive, Bisha will offer a unique medley of the best in design, art, food, music and culture. Located on Blue Jays Way, just south of King Street, Bisha will be tastefully modern, unapologetically free spirited and undeniably cool.(source)
Lifetime Developments are also behind the Four Seasons Private Residents, Liberty Market Lofts and M5V Condo projects. At IDS10 Munge Leung & INK Entertainment were part of The Ultimate Space Designers installation. This would be the world's first look at the Bisha aesthetic.
I was extremely nervous about hanging out with Charles and Alessandro. It's amazing how much Charles has indirectly been part of my youth. I've spent many hours in his clubs and restaurants. I have no idea what to expect from them. What if we don't get along? What if they think I'm annoying? My heart was beating a mile a minute.
The day was jam-packed and we visited the following places: (Each link leads to a post on each location. Read them all to get the full story)
We also stopped for lunch at the famous Balthazar. In true french bistro style I had a traditional ham and cheese sandwich and it was delicious. The place was packed and I'm amazed we were able to get a table so quick. Lunch was a total spur of the moment decision as we were driving by. We had a quick peek at Trump Soho Hotel in between visiting The Crosby Street Hotel and Todd Merrill Antiques. I wasn't all that jazzed about the decor but the front door made of leather was pretty. There was one stop where I didn't take any pictures or even write down the gallery's name. It was in your standard New York city warehouse but we had to check in with security first. On the third floor was this gallery. It consisted of a room with a giant glass box in the middle. In the box were several chairs and tables on display. It felt very clinic and strange. We didn't ask about prices here.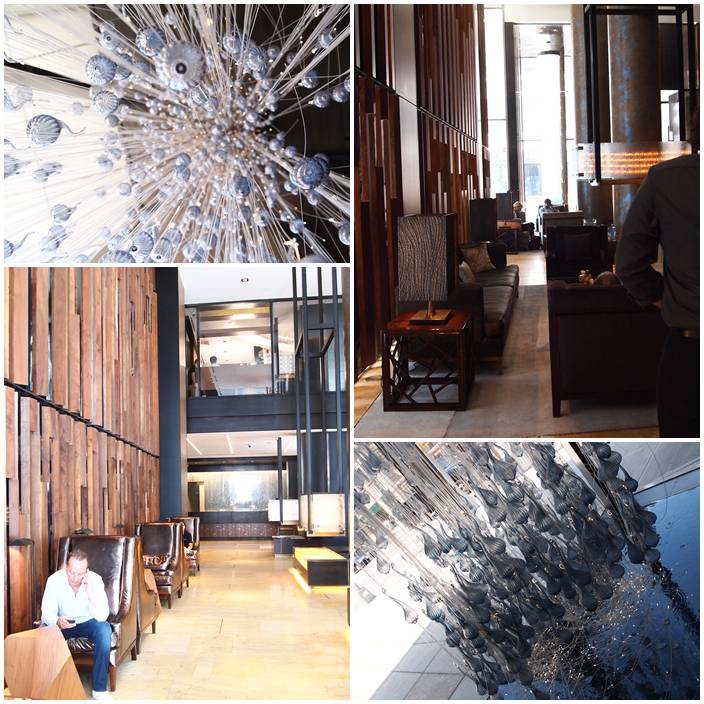 The last three stops of the day were the Ace Hotel, John Vavartos on Bowery and the Tom Ford store. I was super excited about being in the exclusive Tom Ford store drooling over ultra lux menswear.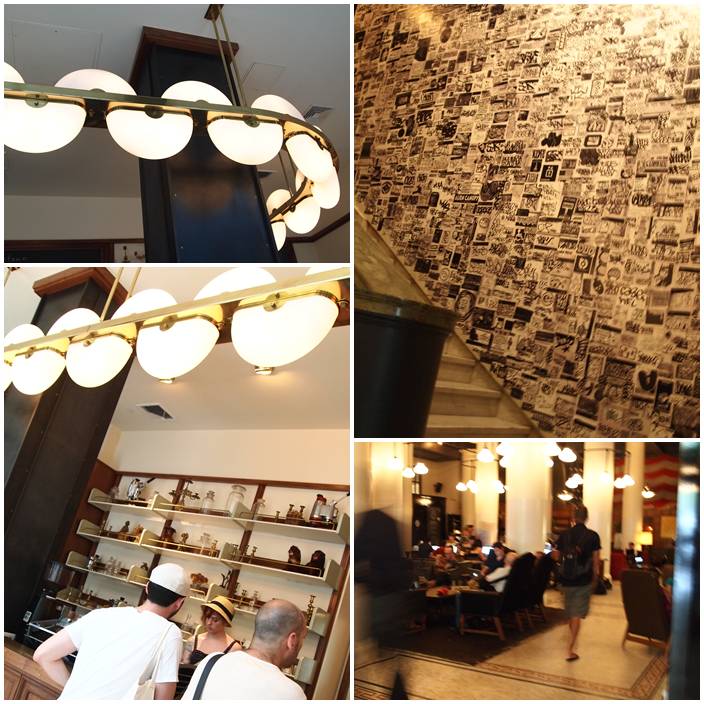 The Ace Hotel (20 West 29th Street) lobby reminded me more of a coffee shop than hotel. There were a ton of people sitting around all staring at their laptops. It was a bit bizarre as no one was really talking to each other. Stumptown Coffee is the cutest little coffee shop I've ever seen. I love the art deco light fixture that wraps around the bar.
Ace Hotel reinvents the urban hotel for the people who make cities interesting. We crave experience more than hospitality clichés. We are curious about the historic buildings we inhabit, and let them guide us to someplace both fresh and familiar. Our sensibility is democratic and inclusive. We appeal to a broad spectrum of travelers directly, without reducing everything to the lowest common denominator. Ace is built around collaborations and friendships with local designers, artists, and independent businesses.

Formerly the Breslin Hotel, the historic property that houses Ace Hotel New York has always been full of life. Alfred Stieglitz and Edward Steichen were neighbors; "Diamond Jim" Brady (the inspiration for Marlon Brando's Guys & Dolls character) was a regular; visionary filmmaker, musicologist and painter Harry Smith lived there, too.
The John Varvatos store was very cool. It was the legendary rock club CBGB. The store has kept the rock club aesthetic.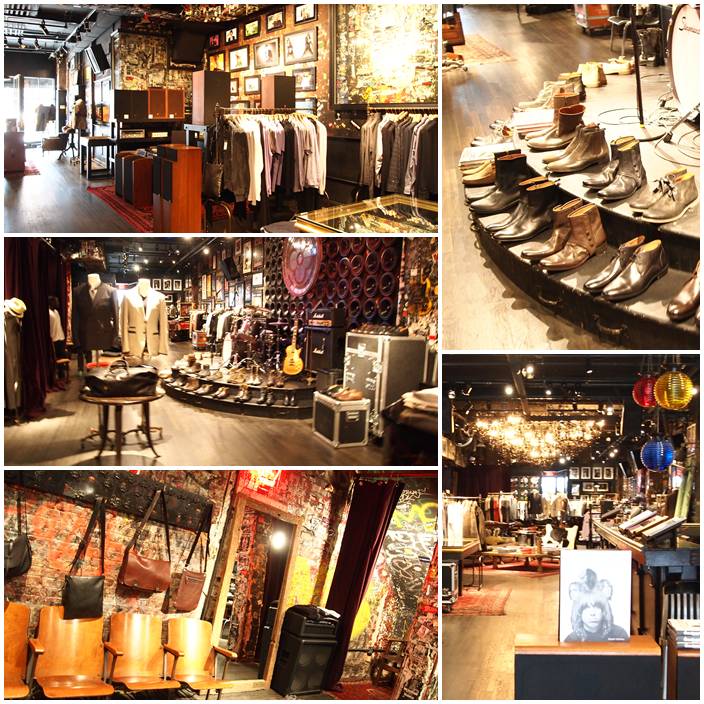 The Tom Ford store was beautiful. Of course, I wasn't allowed to take pictures inside. I've tried to track down a few shots for you online as they are very protective of their image. There is an octagonal room in the back called the fragrance chamber. The prices are crazy expensive in there. However, watching the staff removing ties from their protective plastic layers takes away from some of the luxury.
Now, I worried that I it might be awkward hanging with Charles and Alessandro all day but it was really chill. You could tell that they have been friends for a long time as they were all jokes, all day. They have been friends/worked together for 15 years. I easily fell into their joking manner and rolled with the punches. There wasn't any beating around the bush about prices and things were discussed openly. After my first few heart attacks the talk about price didn't faze me too much. Well, that was until we hit up Flos. I had a heart attack and almost died of laughter.I was associating with a different level of luxury and I had a lot of learn. I managed to find myself talking with Charles and Alessandro about prices. We mused about observations on how the length of the story a sale associate had about a piece was directly proportional to the price tag. It was also interesting to talk about the huge price different between the same Paul Evans table at two different stores. It was a difference of $30,000+.
After Tom Ford, I said my goodbyes to Charles and Alessandro. I had to catch my 7:30 flight and they had more exploring and shopping to do. I really wish I could have spent the night and saw some of the NYC nightlife. I hopped in a cab to LaGuardia and chuckled to myself. What a random and extremely fun day, how lucky I am.
I'd like to thank my hosts Charles and Alessandro for putting up with me on their shopping trip. I had an amazing opportunity to learn a little about their plans for Bisha and other upcoming projects in Toronto. Bisha is hoping to bring New York style hotel culture to Toronto. In New York, hotels attract locals for entertainment as well as tourists. The Standard and the Ace hotel are good examples of this. Most people's ambitions I would write off, however Charles seems to have the magic touch and I believe there is some good stuff coming our way soon. I'm very excited about his Le Bistro project that will be open this fall. It's a Parisian bistro that will open in Yorkville with a large streetside patio. Le Bistro will be taking over the spot occupied by Dynasty Chinese Cuisine on Bloor Street.
Random things I learned about Charles: He has the name of his kids tattooed on his arms. They are very tasteful and I like them. Charles takes his son to board meetings with him occasionally. He hates snakes and things shaped like them.
Random things I learned about Alessandro: He has an iPad. He travels extensively but loves Toronto and wouldn't live anywhere else. He throws all eating rules out the window when he goes for his weekly dinner visits to mom.
Let me give you my outfit breakdown
This is the first post in the series called I want – I got's Bisha Adventure in New York City. Be sure to read the I want – I got's Bisha Adventure in New York City series. I want – I got would like to thank Matchstick and Bisha for providing for all travel expenses on this day trip to NYC.