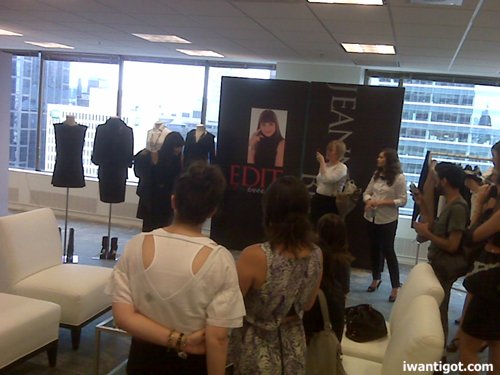 A small group of online media joined Jeanne Beker at The Bay headquarters for a preview of EDIT by Jeanne Beker. Since everyone is doing the celebrity lines why not Jeanne. She at least has the years of fashion knowledge that makes it palatable to me. Jeanne never claims to be a designer. She's partnered with the Corwick Group from Montreal who takes on the designer duties. It was a great experience to have Jeanne at our disposal and she talked about the industry and the changes that have happened with online. She made a crack about how everyone in the room probably weren't of an age to remember a Pre-Fashion Television world. However, there were a couple of us that chimed in to correct her. Fashion Television is celebrating 25 years and the release of EDIT by Jeanne Beker is to  to coincide with the anniversary.
This 25 piece capsule collection will be available in 65 Bay stores in September. It consists of Jeanne's personal selection of silhouettes and colours she feels are must haves. These are wardrobe building pieces. Classic items that you can pair with anything. Separates are chosen in a way so that the collection can serve a work and casual purpose. Casual means denim and there are Jeanne Jeans and Jeanne Jeggings to fit the bill. That's right jean leggings. A portion of sales from the jeans goes toward Dress for Success, a non-profit organization that provides tools for career development to low-income women,
"Having worked in fashion's trenches for 25 years now, in a career that often has a lot to do with "appearances", I've learned a thing or two about wardrobe essentials and how the right choices can help not only make dressing easier, but a lot more fun. What a joy to be able to reach out to such an eclectic array of women who are like-minded, and understand fashion's potential to build confidence, and ultimately empower us!"
~ Jeanne Beker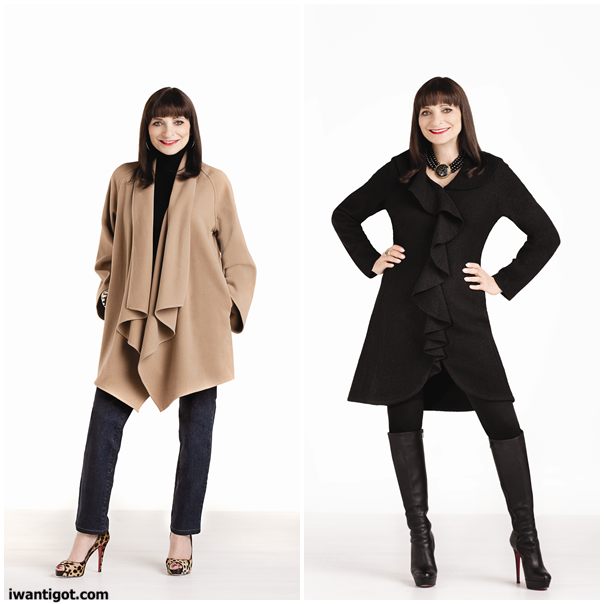 The standout piece of this collection for me is the Camel Cape Jacket for $195. Prices range from $80 – $195 and sizes from 2 – 16. You can get a chance to meet Jeanne as she will be starting a national flagship store tour in October to promote the line.
images: courtesy of The Bay