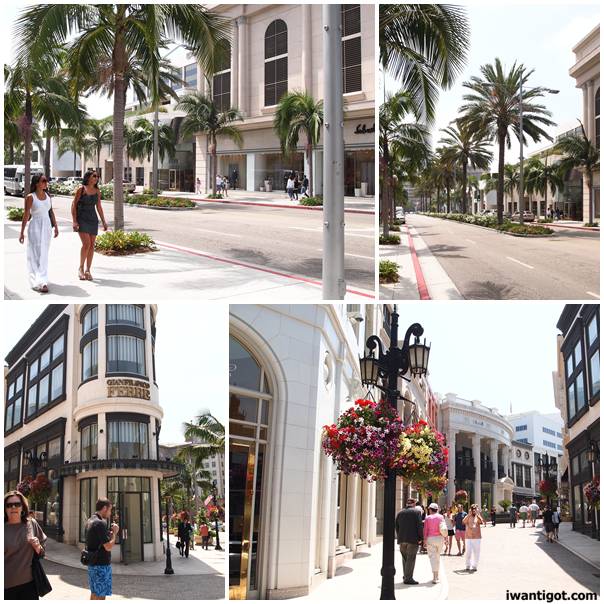 My first full day in California started with a trip to Rodeo Drive. It seems pretty fitting that my first sightseeing trip in LA would be its luxury centre. The actual road is pretty short but the surrounding blocks have other high-end and moderately priced clothing shops like Roots, Club Monaco and Gap. There were high-end stores I would have never expected to see like Harry Winston. We walked in and took at look at the celeb worn jewels but didn't walk past the burly security guard who watched over the area where the sales staff where. I didn't go into a lot of stores as I was a bit overwhelmed with the options. LA is a huge tourist town and I always find it funny to see people taking pictures at some cheesy Rodeo Drive landmark like a sign or water fountain. This happened everywhere, It's that movie influence and one of the few things I find distasteful about LA.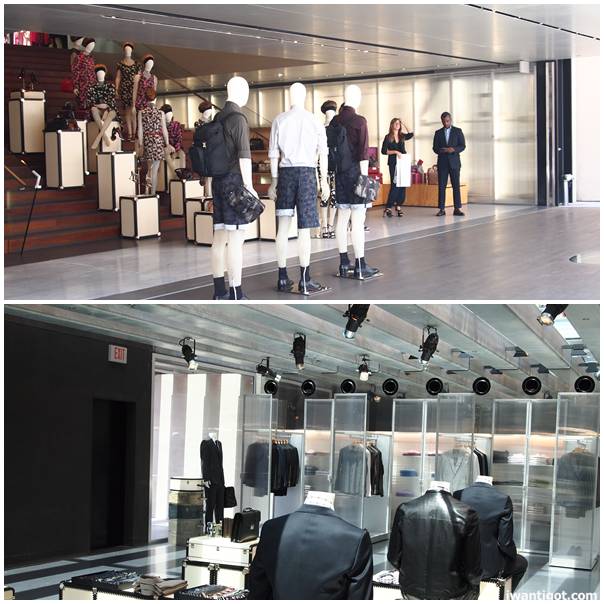 Most of the stores where fairly plain-looking. It seemed only the Prada store lived up to luxury standards. It's my favorite store on the strip and my favorite looking luxury store period. It's got crazy architecture with large staircases leading up to the second floor from the front and back of the main floor. The entrance is open to the street front. It the kind of storefront you cant miss. Accessories and shoes take up the main floor while women's is on two and mens on third. I was wearing my Milan postcard sunglasses and one of the sales staff complimented me on them. With all the money on Rodeo Drive it was interesting to see that Prada was the only on putting their money where their mouth is. This store is so awesome that at the Victoria's Secret VIP party I spent a lot of time talking with the Beckerman's about the greatness that is the Rodeo Drive Prada.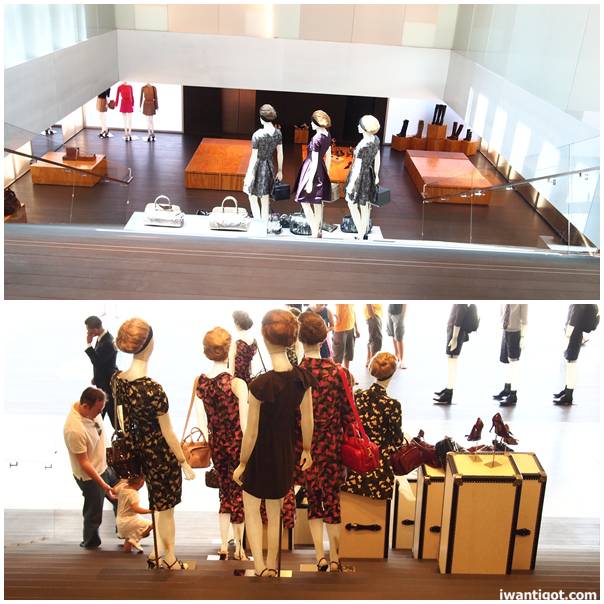 Another great store is the Taschen bookstore. What I would do for one of these in Toronto. I love Taschen books. They have a great selection of fashion, art and pop culture books that are always so eye-catching and well put together. There were a lot of expensive limited edition books for sale there. We are talking $4000 Muhammad Ali and Valentino books. There is another location in New York which I'll have to check out when I return. One of my only regrets of the trip was not getting to see the independent shops in the city. I noticed that LA has a lot of chain stores so it would have been nice to see something not corporate.
Afterwards it was a trip to a California staple, In n Out Burger. I didn't get anything animal style because frankly it looked absolutely disgusting. It was the first and last bit of junk food I ate on the trip. I was told that California has the best junk food so I had to give it a shot. Meh is all i have to say about In n Out Burger. Paul and Lauren live about a ten minute walk to the beach which is amazing and convenient. Paul and I walked from Santa Monica pier to the Marina del Ray pier, 5pm in total. The beaches were so wide and the sand is beautiful. The water is cold. This is what I'm told as I didn't go in the water. That didn't stop people and the beaches where full of swimmers. There are great bike paths that run parallel with the beach. I was really stupid and didn't think to bring my rollerblades with me. It would have been awesome. It's stunning how picturesque this place is, totally breathtaking.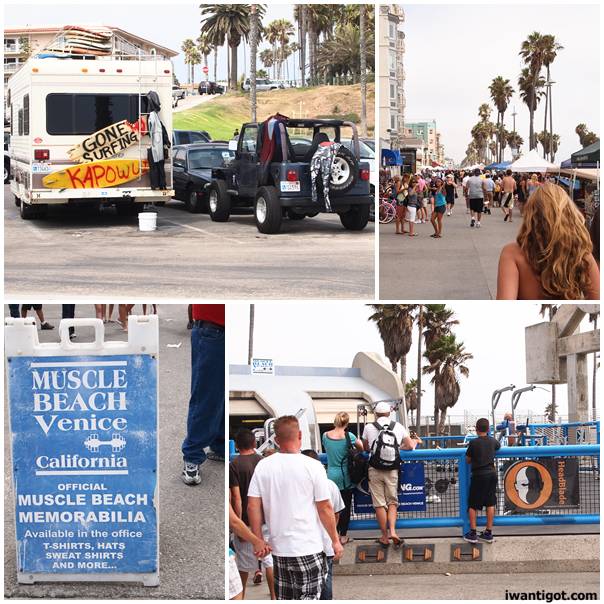 We wandered along the path and the trip took us right through the famous Venice Beach. It was quite a scene of characters. Old hippies were selling all sorts of things with varying degrees of usefulness. You saw the occasional crazy or eccentric person who was on a bike or roller-skates who would spontaneously break into song. I saw spontaneous singing more than once during my trip. I guess its bound to happen in the entertainment capital of the world. There were the medical marijuana guys with potleaf lays who would take you to some strange-looking storefront to get you a license through one of the doctors on staff. Of course I saw Gold's Gym and was amazed at what a strange cliché it really is. That could be said about Venice Beach in general. It even had your ultra religious crew that were out trying to save everyone's soul. For the most part these people just stood around with their signs and recited scripture.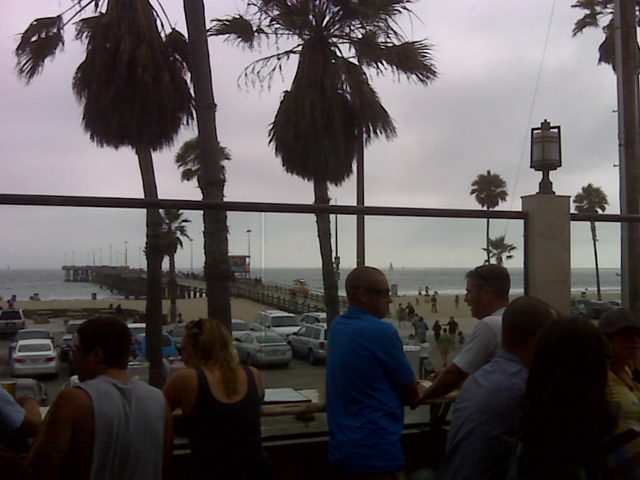 We ended the walk at Paul's old haunt in Marina del Ray called Venice Whaler Bar & Grill (10 Washington Blvd). It has a beautiful patio overlooking the ocean. Paul says that on when it's sunset on beautiful clear night the staff rings a bell. It's a super cute place and we have a few beers before returning to Santa Monica for dinner at The Yard. The chef is Chris CJ Jacobson from Bravo TV show called Top Chef. It's a gastropub that features American style tapas using fresh produce from the Santa Monica farmer's market. The food was delicious and we had a very cute curly-haired waiter.
After dinner we had some drinks at a cute place called Bar Chloe which is known for their extensive cocktail menu. We met up with another couple who were friends with Paul and Lauren. I loved this place. It was a beautifully decorated bar that is recreating the look of a pre-WWII Parisian salon. If I lived in Santa Monica this would be one of my regular haunts. I wish I could remember what I had exactly but the lavender gimlet sounds about right. As we were leaving our cute waiter was entering after his shift. Unfortunately I didn't get a chance to flirt with him. Ha.