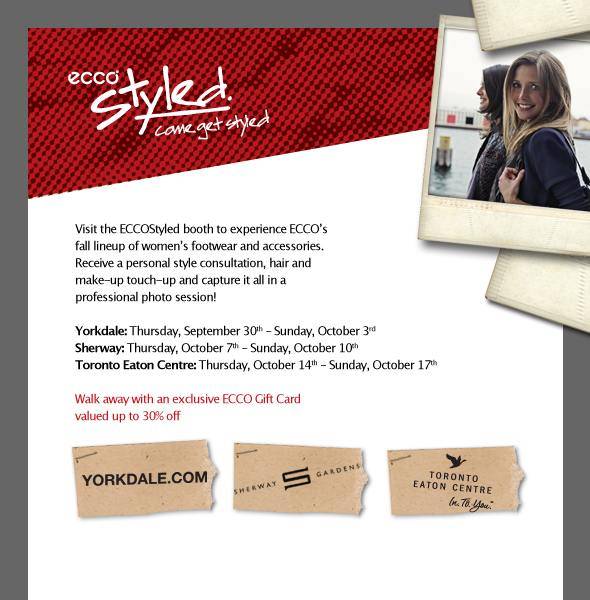 During October ECCO will have a traveling installation called "ECCO styled" that will stop at Yorkdale Shopping Centre, Sherway Gardens and the Toronto Eaton Centre. You can look at it like a little dress up installation. There will be a a wall of ECCO shoes and wardrobe options. Stylists will provide personal consultations utilizing the Fall 2010 ECCO line. You can get hair and make-up touch-ups so that you look great for the photographer that is there to capture the moment. I've been asked to participate in this installation and I'll be at the Eaton Centre on October 15, 2010. You can join in on the fun on twitter by using the #ECCOStyled hashtag. Post your ECCOStyled self.
In the spring I attended the Fall 2010 preview for Ecco and I was very, very skeptical.  I didn't think there would be anything I liked.  At this point I hadn't ever seen a shoe at this store I liked during the rare and random times I stepped foot in the store.  I was wrong and ECCO actually made some boots a tough fashion customer like myself  can like.  I loved the boots and booties.  There were some riding and motorcycle boot influenced options.  All the boots had a nice low heel which made them very easy to walk in.  I received a gift card for my time and I held on to it waiting for fall.  I was gonna get me some boots from ECCO.
Fast forward to fall and I'm asked to participate in Ecco Styled.  I selected two items from the fall 2010 shoes and handbag collection and in return I'm to show off my ECCO Styled self.  I selected the tall Jaffna boot in a light brown colour.  These boots ended up being my TIFF staples.  In the photo above at the Bask-it Style Media day, I'm wearing the Jaffna boots, grey Zara jacket, Stella McCartney for LeSportSac bag, grey skinny pants and white sleeveless shirt ( both courtesy of Esprit).
This photo was done by an illustrator at the IT Lounge during TIFF. I'm wearing the Jaffna's in this image. ha ha.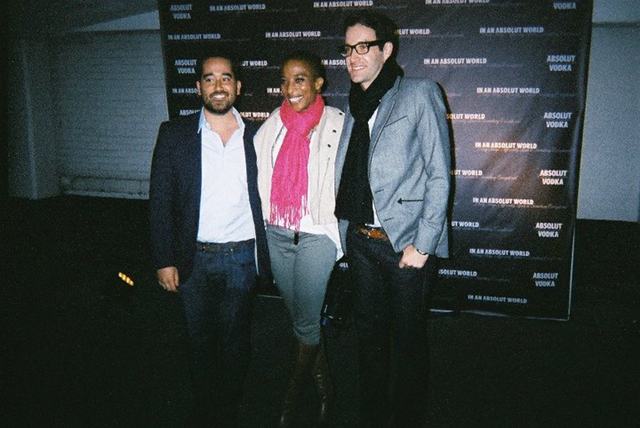 This is another TIFF 2010 shot at the ABSOLUT St.ART party. I'm wearing the Jaffna boots, Blank NYC jean leggings (Courtesy of Blank NYC), Cheap Monday white tshirt, Alexander Wang x Gap trench coat, magenta scarf and a Gap belt.
I wear the Jaffna boots to work a lot too. The above photo I'm wearing a blue Esprit dress (courtesy of Esprit), blue tights (courtesy of Secret) and the Jaffna boots. It was my blue monochrome day. Next post we'll look at my handbag selection.