There were a lot of kids at the dress rehearsal of Opera Atelier's Acis and Galatea. Through the magic of twitter I found myself with two tickets to the event. I like opera so I accepted the invitation to check it out. I can't resist Greek tragedy and Handel together. It's my intellectual crack.
Acis and Galatea, Handel's ravishing pastorale, depicts Ovid's tale of the water nymph Galatea and her doomed love for the Arcadian shepherd Acis. The opera weaves together a story of startling sensuality and tragedy blended with an ironic sense of humour – told through some of Handel's most sublime music.
My knowledge of Opera Atelier was very little before the show. I knew of their existence and that was about it. We were warned that this was a dress rehearsal and that if necessary the actors will stop mid performance, etc. It was exciting to get this behind the scenes look at what happens in the days before a premier. I learned that the kids were from their education program. They were also encouraging people to tweet during the performance and I took advantage of that using the #acisandgalatea hashtag.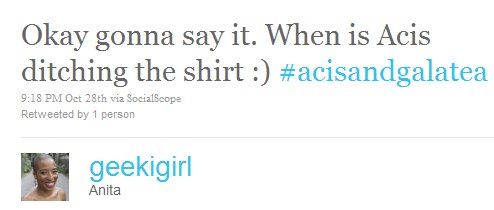 I mentally squealed when the chamber choir kicked in. They were standing in the balconies to the right of the stage. The ballet dancers took the stage and I started tearing up. Was this really going to involve all these beautiful things at once? This is Baroque Opera and I love it.
It was the first time Gerard Gauci, Set & Costume Designer was responsible for the entire production including sets, props and costumes. The costumes were very colourful and looked so graceful in movement. There were lots of long full dresses with crinoline. The type that makes you want to be a ballerina.
The cast was amazing. The dress rehearsal when off without a hitch. Mireille Asselin (Galatea) and Thomas Macleay (Acis) were so perfect together. Their characters were so convincing and the chemistry was very believable. They even melted my cold heart with their beautiful duets. My favourite characters were João Fernandes as Polyphemus and Lawrence Wiliford as Damon. Lawrence's voice was my absolute favourite of the show.
I really enjoyed Acis and Galatea. It was a delightful surprise to the traditional opera I expected. I enjoyed so many art forms that I love in one shot, amazing. The show takes place at the Elgin Theatre for the following dates:
Saturday, October 30, 2010, 7:30 P.M.
Tuesday, November 2, 2010, 7:30 P.M.
Wednesday, November 3, 2010, 7:30 P.M.
Friday, November 5, 2010, 7:30 P.M.
Saturday, November 6, 2010, 7:30 P.M.
Sunday, November 7, 2010, 3:00 P.M.
You can buy tickets online at Ticketmaster.