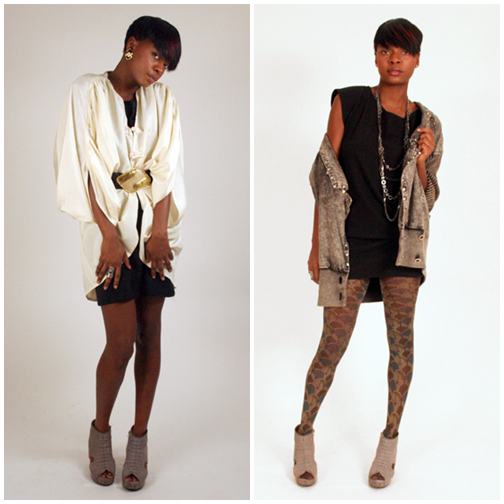 The second year of the Uniform Project finds Sheena hanging up the dress and finding others called The Uniform Project Pilots. Musician Isis Salam is October's The Uniform Project Pilot and she is raising money for One Laptop per Child, a non-profit organization working to provide access to education to every child in the world. it's just past the halfway point and if you have any spare dollars please head over to The Uniform Project's website and donate.
Ladies and Gents introducing the one the only, most versatile little black dress on the planet! I can go from feeling like Mad Men's Christian Hendricks day time to hot cocktail drinking soho fashionista at night. If the last 3 years of touring have taught me anything, it's a solid appreciation for chic simplicity. First two photos is the front (or back depending on the mood) and then I flipped it around to showcase the cute buttons and pleats.

I must say I'm pretty excited about this project not only is it for a great cause but a great fashion challenge. I've recently been on a whole "live lite" approach to life and taking part in an exercise that provides an opportunity to realize what you "really have" is the cherry on the cake. Most women i know (including myself) have closets filled with pieces we know we will never wear again but are too attached to let them go – kind of like a needy boyfriend, you keep telling yourself ill make an attempt or one day ill introduce this piece to my parents. But we all know these pieces just get pushed to the back of the closet and forgotten.

My goal for the month is to support a whole class of students in Abuja, Nigeria with Laptops! So here's to reinventing our wardrobes and perceptions! 200 kids – 200 laptops – 1 little black dress. LET'S GO!