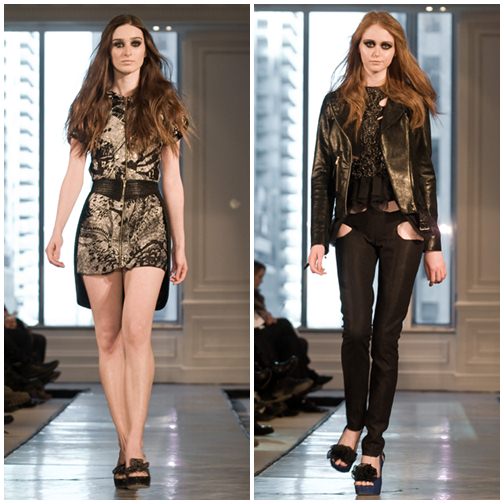 A common complaint I hear about Mihkael Kale's clothing is wearability. I should think that after four years people would understand that Mihkael designs are not for everyone and I don't think he will be going in a mass direction anytime soon. There are many things I can't wear due to design, shape or price. That doesn't stop me from enjoying them aesthetically. I like niche designers, they keep things interesting.
I've referred to Mihkael as a designer who can throw everything and the kitchen sink at something and make it look incredible. Fall Winter 2011 – 2012 featured crystal and pearl encrusted details, chain embroidered roses and sequined bodices.
There was a lot of skin in Mikhael's collection. You'd almost think it was a spring collection. Cutouts incorporated resembled bondage to me. Amazing there wasn't one bare midriff in all the skin. Caucasian nude fabric played peak a boo with one oxblood dress with chain embroidered roses. At first glance I thought the fabric was flesh.  Thankfully there were some coats and pants to bring the collection back into a fall winter direction.
The black net cutout jumpsuit with draped chiffon is about the only cutout piece I could see myself wearing with any confidence. It has a practical aspect as you can layer clothing over it to tone down its sexiness. It could never be workwear. The bum cheek cutouts makes that impossible.
Mikhael's spring summer 2011 collection initially filled me with doubt when I saw the Holt Renfrew show at LGFW. That doubt eased once I saw the clothing at the Holt Renfrew designer personal appearances event and Natalie Lecomte wearing one of the dresses. I didn't have that doubt for fall and right away I loved what I saw. Favourites included the Silk draped tuxedo jacket, Printed silk chiffon tunic with detachable silk tweed tail belt, Gem crystal silk sleeved jacket, grey suede tunic, oxblood lizard finish leggings and the Black net cutout jumpsuit with draped chiffon.
Instead of photos I took video from Mikhael Kale's fall winter 2011 – 2012 collection

You can see all the photos from Mikhael Kale's fall/winter 2011 collection at torontolife.com.
Images: by Jenna Marie Wakani for torontolife.com