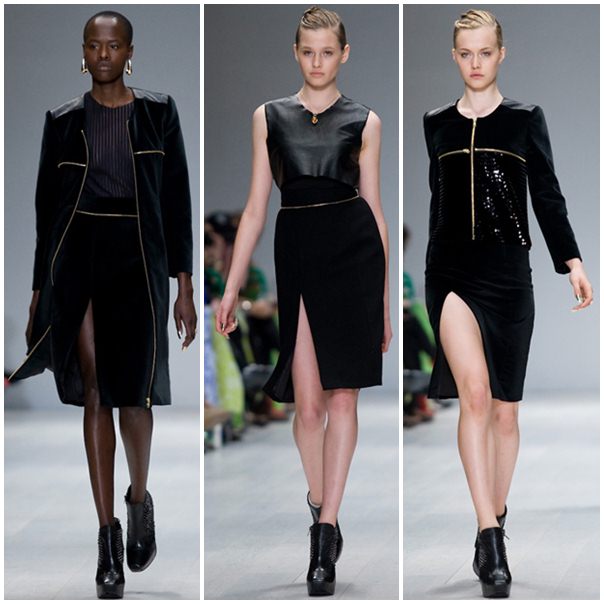 Amanda Lew Kee's fall winter 2011 – 2012 collection started out so strong. The first third of the collection was very promising. Unfortunately, the middle part of the collection was a little lost and the last third of the show was a risky gamble with colour that didn't pay off.   There was a lot of good elements going on the in the collection but they got lost among the unfocused elements. In my perfect world Amanda would have continued to explore the silhouettes she opened with in fabrics that weren't metallic.  The rule about taking off a piece of jewellery before you leave the house applies to everything in life.  In this case, less would have been more.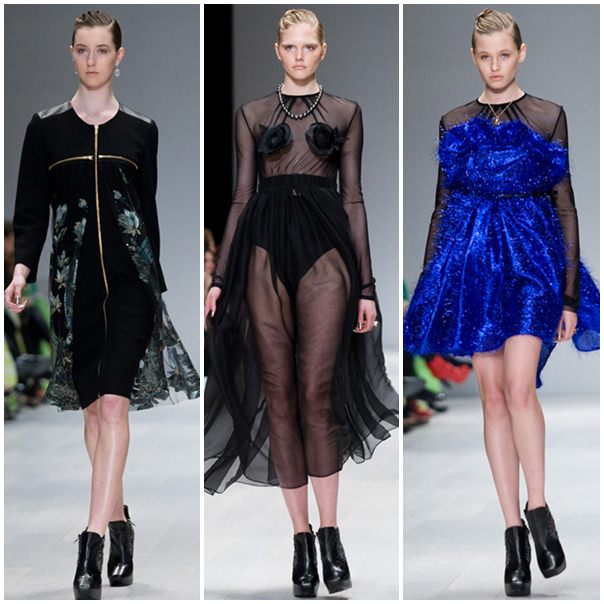 The collection was in desperate need of an edit.  The leggings and jersey tank dress are too American Apparel to be on the runway.  Those looks weren't show material for me but the things you show to buyers in a showroom.  The flower embellishment left me puzzled.  Was it a deliberate design feature or some last-minute modesty coverage.  If so, a bandeau top or lacy bra would have been better choices.  The last half of the show just reminded me of Christmas with the fabric choices.  Thoughts of wrapping paper, tinsel and ornaments aren't the best associations for clothing.  There is much potential in those shapes but the fabric and colours suck that potential dry.
I liked what I was seeing with sheer, zippers and leather.  Some of the coats were really great and I particular loved the two jackets that featured paillettes with leather and velvet (see looks at 2:12 and 4:22 in the video). I like the usage of zippers in Amanda's work but they needs to be perfect. I noticed that zipper construction and finishing is a bit of a weakness. These are the things I see in the front row. The construction quality wasn't consistent and I was seeing some buckling. When zippers are a main design feature they must be flawless. I loved the skirts but the thigh slit was way too high. It's never a good thing when you are seeing model crotch all over the place.
Amanda Lew Kee's fall collection missed an opportunity to showcase some great coats. It's Canada and we love our outerwear.  Canada Goose alternatives for people out there are desperately needed out there. I loved the leather jackets from Amanda's debut and it's too bad this wasn't explored again this fall.
See the Amanda Lew Kee Fall Winter 2011 – 2012 fashion show

See photos from Amanda Lew Kee's fall winter 2011 collection on torontolife.com.
Images: Jenna Marie Wakani for torontolife.com