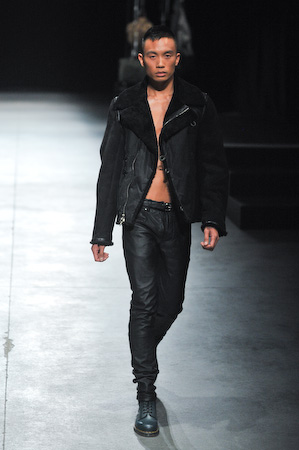 Hands down favourite of LG Fashion Week is Krane.  This show had it all, from the amazing Krane clothing and accessories to the killer runway presentation with great music.  It's was the most enjoyable show of the week for me.  I remember a Krane show I covered for blogTO way back in 2007 where designer, Ken Chow, cleverly used a bodybag in the finale of his fashion show. That guy has always been impressing me with his work and presentation skills. As someone who loves military details, it's pretty hard not to be crazy in love with Krane.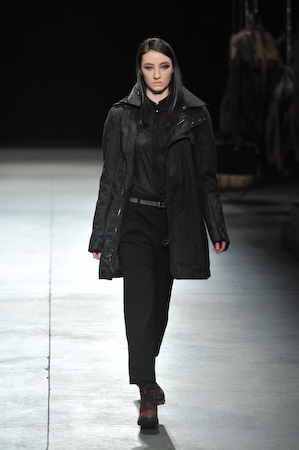 Ken Chow continued on his exploration of the military theme with officer's coats, aviator jackets, bombers and pea coats. He combined his signature waxed cotton with vintage military blankets in many of the jackets. Lambskin, wool, cotton and shearling rounded out the fabrics in the line. Bags came in different styles like duffle bags, carpenter bags, laptop bags, rucksacks and briefcases. They came in either suede or a washed leather. The lambskin jeans stood out the most in the amazing pant lineup. Other options included wool ponte di roma trousers and waxed cotton jeans. When the male models were wearing shirts they consisted of henleys and button ups. I've followed Ken for a while and the workmanship on Krane garments and accessories continues to be impeccable. Ken made a smart move including a female model in the lineup since women by 10% of menswear sold. I've always wanted to wear Krane and it works very well on female body.
See the entire Krane Fall Winter 2011 – 2012 show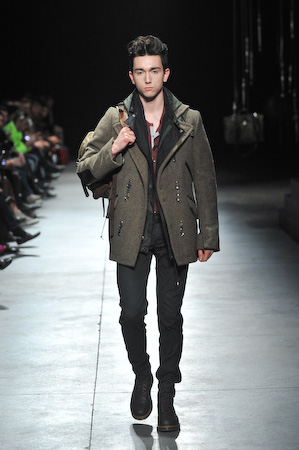 See the photos from the Krane Fall Winter 2011 – 2012 show on lgfashionweek.ca.  Also check out filmmaker Ron Wan's Krane Fall/Winter 2011 – 2012 video.
images: George Pimentel