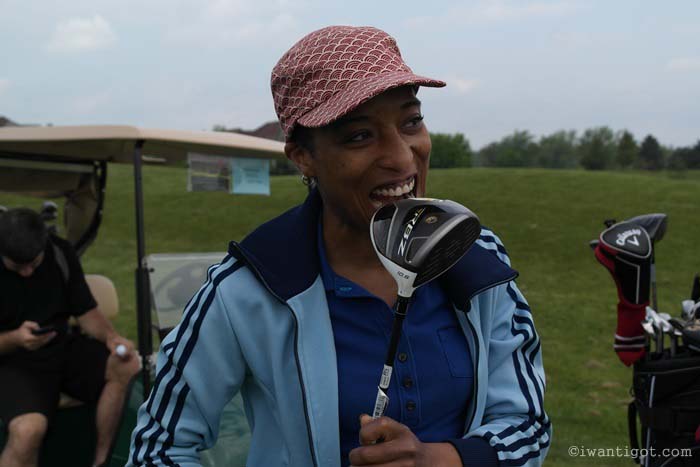 Yes, Microsoft Canada invited me to playing Golf for charity. I imagine there is some confusion happening on your end. Golf, Microsoft and I want – I got, how do these things fit together? Well let me break it down,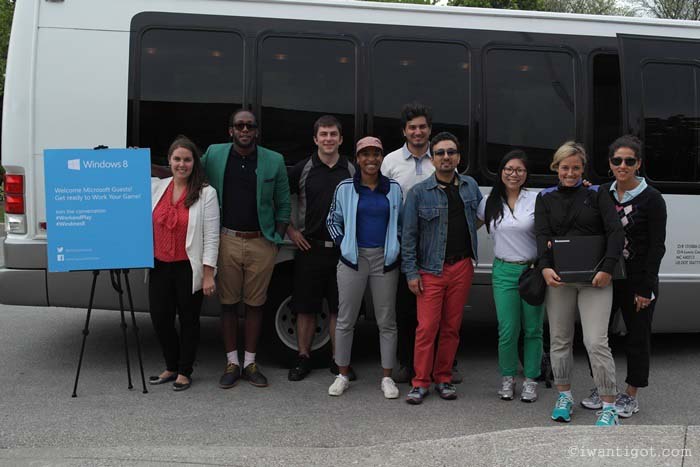 I'm a Microsoft girl. It's my OS of choice since the DOS days. I was excited when they contacted me to join their Influencer Program a few weeks ago. The first event is called Work Your Game with Windows 8. Microsoft Canada invited six people (Amber MacArthur, Carl Edwin-Michel, Sharad Mohan, Steve Dangle and Tyrone Edwards) to play two rounds of golf with a swing clinic in between at the prestigious Glen Abbey Golf Club. It's a competition with the most improved player winning $8000 for the charity of their choice. Along with golf we learned about the new Windows 8 operating system. I received a SurfaceRT from Microsoft in order to experience Windows 8 on a touch screen device.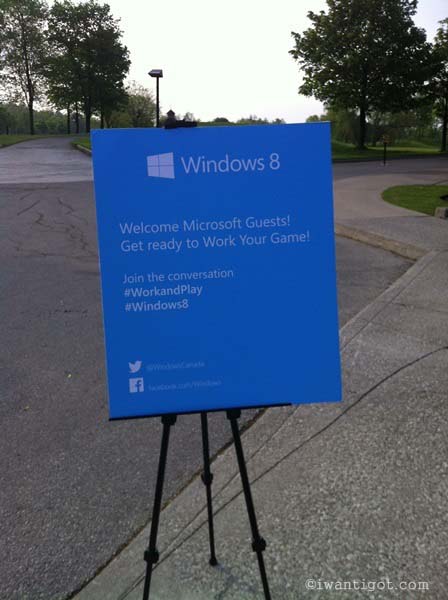 Regular readers have never seen a mention of golf on this site until now. I'm not a regular player but I do enjoy the sport. My connection to golf is through my late father. He loved golf. He was my model of someone who was totally devoted and in love with their sport. This was something that I would model throughout my young adult years when I dedicated much of my life to sport. My father tried to get us into golf as kids, taking us to the driving range and getting us to hit balls in the backyard. It didn't take. My brother and I loved soccer and running around. Golf is too cerebral a game to grasp as a hyperactive kid. So fast forward to now and the last time I played a round of golf was 8 years ago. I jumped on the chance to join the Work Your Game with Windows 8 event because I wanted to be close to my Dad in a way. I was hoping I could channel some of his amazing skills as a golfer. He was really good and my childhood memories of him are filled with his golf trophies.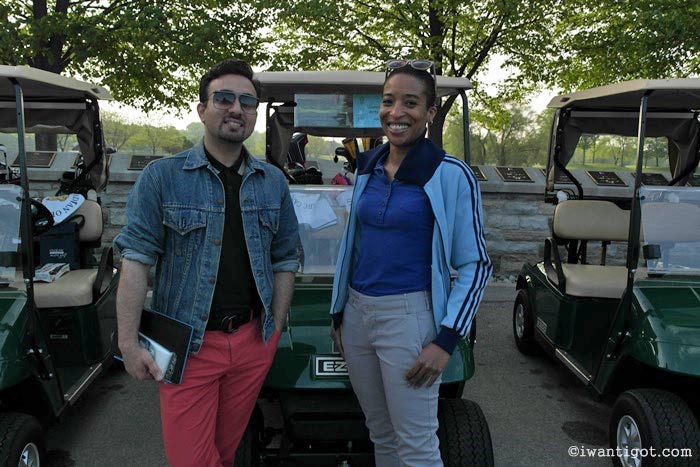 My charity selection is Story Planet. I learned about this youth literacy charity through friends who did some branding and illustration work for them.
Story Planet is a literacy organization that inspires young people to be creative and effective communicators. We encourage them to develop their unique voices and help them launch their stories through the written word, visual arts & digital media.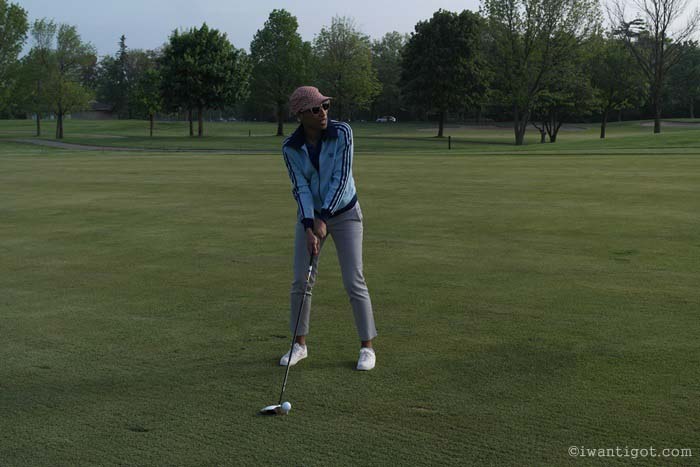 Microsoft piled all of us in Black cars early one Tuesday morning and we made the drive from downtown Toronto to Oakville. Glen Abbey is a super exclusive club and we received a lot of rules before arriving, especially about dress code. Collared shirts and golf pants are a must. Sporty clothes are not acceptable and make sure those shoes have no spikes. It wasn't hard to dress the part because I actually have golf shirts in my closet. They are colourful and I use them under sweaters generally. I opted for Tretorns instead of Converse.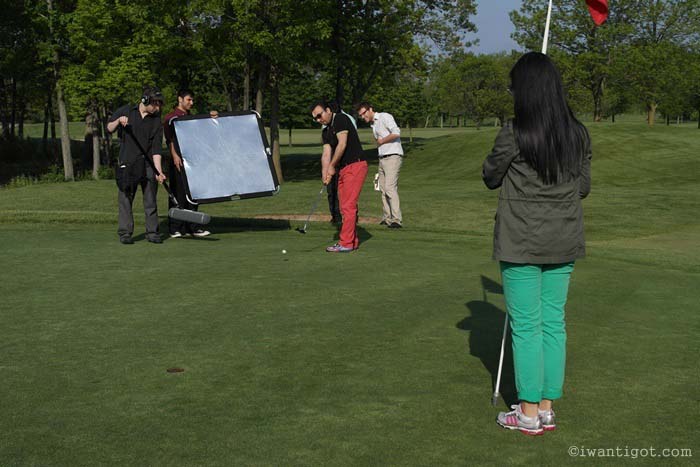 Microsoft mentioned that there would be a film crew because they would create videos for each of us to share about the experience. I didn't really grasp the concept until we pulled up to the Glen Abbey clubhouse and the Video team of with two cameras were waiting patiently. Yikes, I thought. It's 7:30am and this film crew is here. I automatically put my sunglasses on before getting out the car, time to be on.
Everything was setup for us when we arrived. Four golf carts with full sets of clubs all lined up in a row, just begging us to drive them. Well that was what it felt like to me, I LOVE driving golf carts. Thankfully, most of the other participants weren't golf experts. To make it easier on us we played Scramble Golf. That way we wouldn't spend too much time at each hole pissing off the tournament that was teeing off behind us. Our ragtag crew was hilarious and the film crew followed us for 5 holes. I could only imagine what the members were thinking. I'm sure we were a total pain in the ass for the Golf Rangers who travel the course making sure everything is running smoothly.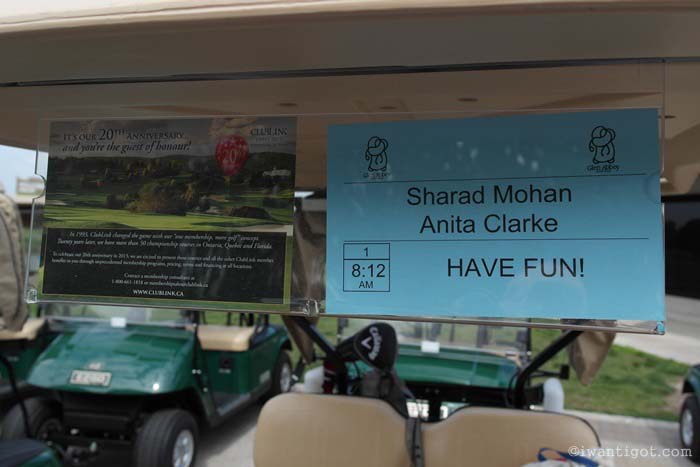 I enjoy golf even when I'm playing badly. Being outdoors with friends is the best part about golf. Drinking on the course is another thing that makes the sport great. Unfortunately at Glen Abbey there were no beers on course. Mind you it was way too early to be drinking. Golf is the kind of sport that makes you more aggravated as you get better. My goal for this round was just to hit the ball. I couldn't remember any tips or the proper posture. My driving game got better as we progressed and I even managed to get par on one hole. I only hit my ball into the water hazard once when I decided to use a bigger club than necessary. I was just happy with the long hit. My putting game stayed pretty consistent and it was much better than my driving game.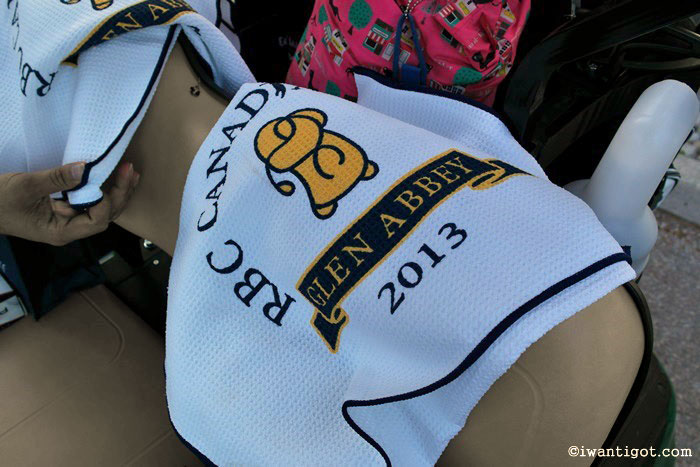 Glen Abbey is a beautiful course. Peaceful and immaculate with lots of water hazards around. We gawked at the houses that back onto the course, they are massive. The one time I partied in Oakville was at a house that backed onto Glen Abbey. At nightfall we hopped the fence and smacked balls around. I kept looking for that house but didn't see it.
We only played 9 holes which was a blessing for a first outing as 18 would have been a hell of a slog. We all got back to the Clubhouse and recorded our initial scores. My initial score is crap and I'm not going to mention it here. You'll learn about it when I tell you about the final round that will choose the winner.
So about that video Microsoft Canada produced. It hit the Internet last week and you can view it on YouTube. It's really fun.
I can raise more money for Story Planet with the help of my social networks. The more you RT my tweets, view my blog posts and videos will give me an opportunity to add up to $1500 to the minimum $1000 Story Planet will receive because of my participation. Use the hashtag #teamAnita on twitter to show your support as I prepare for tomorrow's final round. Whoever has the most active social community will receive and Xbox 360 and Windows 8 tablet to give away to their lucky readers.
Check out all my photos from Glen Abbey below in the slideshow
This post was sponsored by Microsoft Canada. The views and options expressed in this blog, however, are purely my own.