World MasterCard Fashion Week is upon us and that marks the start of the Stylicity program. I've participated as one of the official Bloggers for MasterCard Stylicity for a few seasons now and I was even featured in their past ad campaigns. With the Stylicity program, MasterCard holders get special discounts at number of local retailers as well as some great online deals until November 3, 2013.
Now, I'm here to talk about my stomping grounds, West Queen West. I'm definitely dating myself but ever since my university days in the mid 90s West Queen West has been the party destination. Back then, there wasn't much development like now but there were bars, booze cans and secret raves that fuelled the dancing and partying yearnings of youth. Those amazing memories are why I have such a strong attachment to the area. I'm a little older now but I'm still stomping around West Queen West. The area has turned into a hotbed for commerce and MasterCard customers have lots of choice.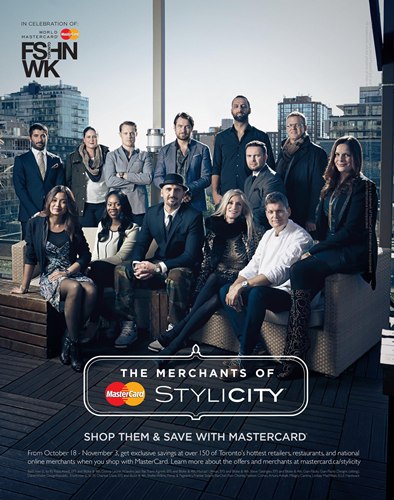 West Queen West is where you want to shop if you are a man in Toronto. Anti-Hero13, Gian-Paolo Mazzotta, and Simon Carter London can help you get your menswear on. Vintage is a staple of West Queen West with Cabaret Vintage is the, ahem, Queen of the strip. It was there in the early 90s and it's still kicking around; better than ever. Vintage lovers can also check out Rescue Vintage on Ossington. Women can find great pieces in West Queen West too. Look to some of my personal favourites like the purveyors of all things French, Canon Blanc and the place to get your cool girl on, Sauvage. Girl Friday, Leigh & Harlow and Champagne & Cupcakes can take you from work to night to weekend in three stops. If you are looking for deals on designer clothing, head to Fashionably Yours, a consignment shop specializing in designer merchandise. Fresh Collective is another long time resident of West Queen West that specializes in Canadian designers. Head to Elle Hardware to pick up jewellery and add that finishing touch to an outfit or maybe you need some funky socks from FloorPlay Socks. Men and Women can shop together at Ben Sherman, Leigh & Harlow, Ben Sherman and Original Penguin. Perhaps custom shoes are your desire? It's pretty rare to find in Toronto but West Queen West has Brodawka & Friends! Don't forget to stop into Spectacle, the eyewear Mecca of West Queen West.
West Queen West isn't just about shopping you can get pampering too with Sekai Nail and Beauty Bar, Doll Bar Inc and CHEVEUX By darren kwik. After all this shopping, you'll need to eat. Church Aperitivo, Nyood Restaurant and Bar, Milagro Cantina, The Gladstone Hotel and Fishbar can satisfy a number of different tastes. Finally there is Reposado Bar. I recommend this one a lot to people who love tequila. It also makes a great date place and has a cute little patio.
This post was sponsored by MasterCard. The views and opinions expressed in this blog, however, are purely our own.