It's Mother's Day on Sunday and if you are like me, you haven't bought anything yet. So here's a gift guide for all your procrastinators out there like me.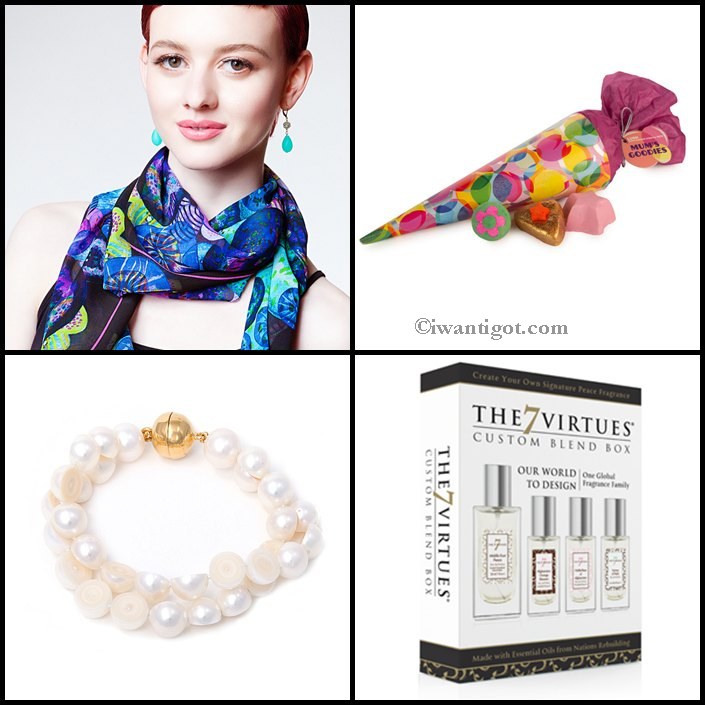 There is nothing like a long, relaxing soak in the tub. Get mom the Mums Goodies pack from Lush. It's already wrapped and has a mix of relaxing bath time products. While you are at it, pick her up some Lush Fresh Face Masks. I've been test driving Cosmetic Warrior and Catastrophe Cosmetic and I'm a fan of the results.
Ebay has teamed up with local designers Anu Raina and my friend Monique Chan to introduce the eBay 4 Mom collection. All items are under $75 and shipping is included. There are beautiful print scarves from Anu and beautiful MoonRox earrings and necklaces from Monique. The designs are unique to eBay and available until May 11, 2014. After that they are gone so get to ordering.
The 7 Virtues Custom Blend Box is a great set of vegan fragrances made with natural essential oils that you can customize to create your own unique scent. It's also a company with a great story as they work with families from countries that are rebuilding to harvest the raw ingredients. You can find the 7 Virtues Custom Blend Box at The Hudson's Bay. I own this product myself and the scents are really incredible to wear together or alone.
If you are looking to splurge on jewellery for Mom check out Kavut.com. There are a lot of styles to choose from and I'm particularly taken with the stunning Melanie Georgacopoulos Sliced Pearl Bracelet.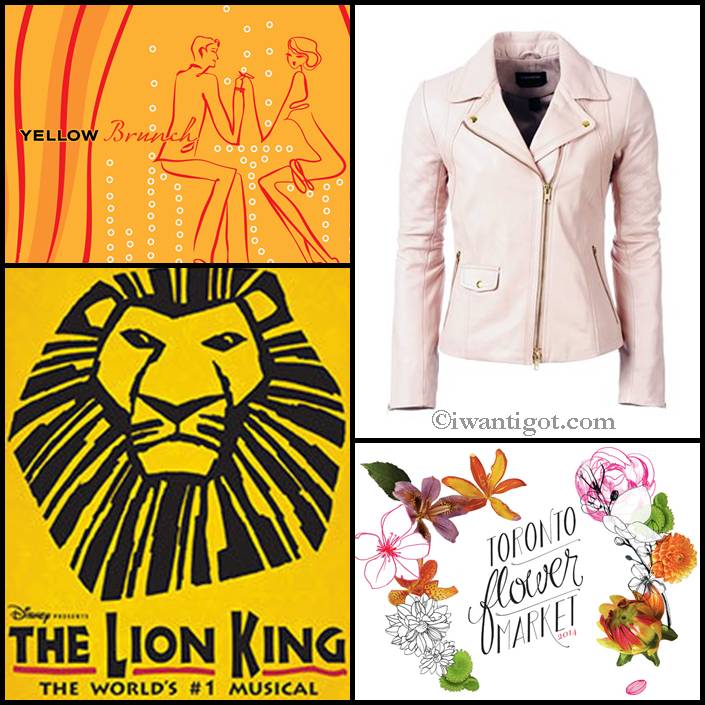 It's Veuve Clicquot's Yelloweek in Toronto and they are hosting Yellow Brunch at Brassaii. Take Mom out for a nice brunch and drink some Veuve. Reservations 416-598-4730.
Grab you Mom a bouquet of beautiful flowers. Hit up the Toronto Flower Market this Saturday from 10 – 3pm, 1056 Queen Street
I was going to get my Mom tickets to The Lion King but she's seen it already. I went last week for the first time and I have to say it melted my cynical heart and it's one of the most exciting and emotional musicals I've ever seen. I highly recommend it.
Danier Leather has a whole section dedicated to Mom on their website. I was in the store recently and the selection is seriously amazing. I love the Georgia lamb leather biker in blush.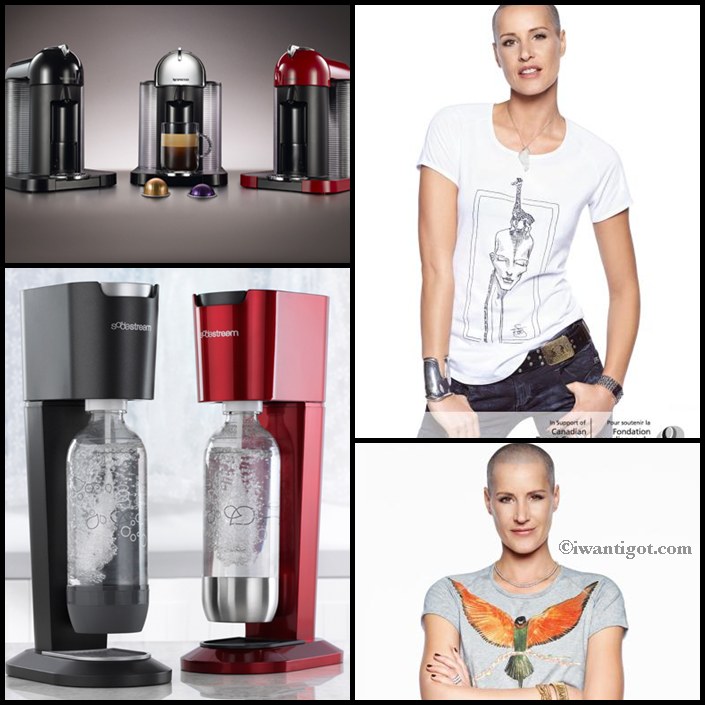 The Reitmans x Eve Salvail tshirt collaboration is the bomb. I'm such a fan girl of Eve and she's an amazing artist. The shirts are 25 bucks and available at Eaton Centre and TD Centre Reitman locations or online.
I generally hate associating the kitchen with Moms (My Dad was the cook in my family) but for a lot of people, Mom is the person who feeds you. So you should help her out by picking up my most treasured kitchen gadgets. Regular readers know I'm a massive fan of Sodastream. Pair it with some Torani Syrup from BuyCoffeeCanada.com and that is heaven right there. My new must have kitchen gadget is the Nespresso VertuoLine machine. It's a godsend. Now you can have the best of both worlds, espresso and freshly brewed coffee. This is an item I can't live without.
My Mom is always asking me to print photos of my niece and nephew for her so definitely hooking her up with tech gadgets is a must. I'm a big fan of Microsoft's Surface 2 Pro and the HP Photosmart 7520 e-All-in-One Printer. I featured them on my Holiday gift guide and still stand by that recommendation.
I haven't mentioned shoes yet and normally I'd post some beautiful heel to shop but this time I'm going to the complete opposite, buy Mom some New Balance runners. Running shoes are in style now (nice of the rest of you to catch up) and New Balance are the most comfortable runners I've worn. I love the retro styling and even their more modern designs. The custom option is pretty slick. You can find New Balance at The Hudson's Bay and New Balance stores.
If you are a gift card type, my go to options for Mother's day are Holt Renfrew, The Hudson's Bay and Net-a-Porter.
I could go on forever with Gift Guides and it's always hard to decide when to stop but here we are. Happy Shopping procrastinators!