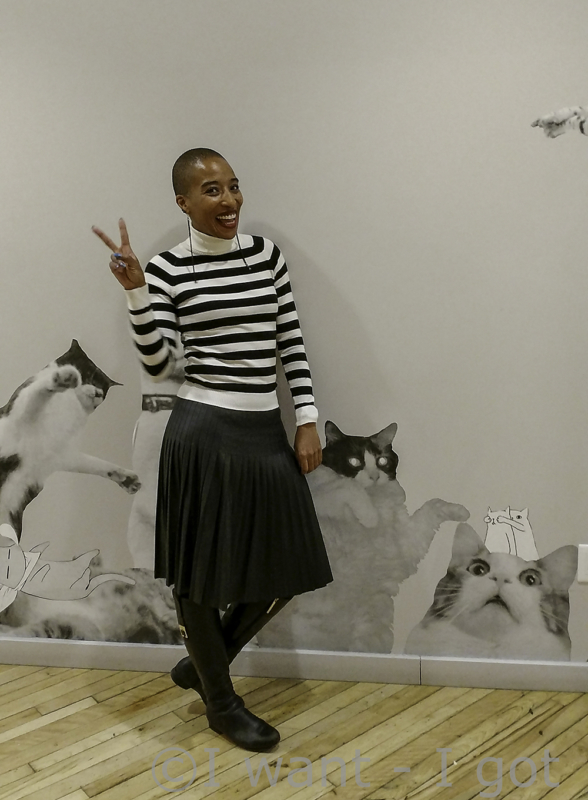 So, it's my 2nd day at Shopify and I went with a classic black and white outfit. Actually, I really love this outfit and I feel good and put together every time I put it on. It's a classic pairing in my wardrobe (tight top with a full skirt). It's something I wore often when I wasn't playing the #ggatShopify game. Art is a big part of Shopify offices, it's everywhere and one of the wonderful things that make the place special. I lost my shit the first time I saw the cat wall. These are my people, I thought. It only made sense that I'd use the cat wall as the backdrop to my second #ggatShopify post.
Okay, let's break down this outfit.
The skirt is is from Rebecca Taylor who isn't Canadian unfortunately. I hosted a fashion show at The Hudson's Bay at Yorkdale several years ago (before Shopify) and I received a gift certificate as payment. I purchased this skirt and a couple other things. It's faux leather, which isn't something I normally wear that often, but Rebecca Taylor does a good job. The turtleneck is from Suzy Shier. This was a purchase from my RBC days. There is a Suzy Shier in First Canadian Place that I would wander into on lunch hour. This was way before I cut my fast fashion consumption way down. It's lasted a very long time considering. I can't tell you where the earrings came from but I bought them from an independent designer years and year ago. The boot are from Poppy Barley, a Canadian shoe company from Alberta. They were just starting out and I received this boots at press preview in 2015. I'm still wearing them 4 years later and they are in great shape. I can't recommend this company enough.
Everything in this photo won the #ggatShopify Battle Royal except the earrings. It wasn't that they didn't bring me joy anymore, I lost one of the pair and after that it was over. The shoes, skirt and turtleneck are still in my closet and bringing me much joy.
geekigirl 3 Kondo 0