It's November 14, 2016 and my first day at Shopify. I was so excited and nervous. This wasn't the Bank and I didn't know what it would be like working at a company that wasn't over 50,000 people anymore. This is the date the #ggatShopify experiment began. I spent a lot of time deciding what to wear on the first day. It was like it was Toronto Fashion Week. I can't remember the reasons why I chose this particular outfit outside of jumpsuits being cool and that's enough for me.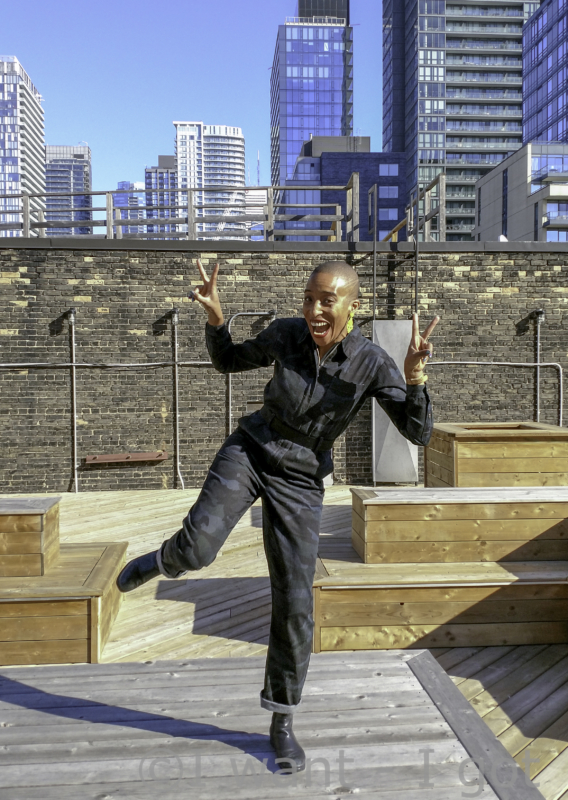 This is Shopify's rooftop and my favourite place in the office. There are a few #ggatShopify shots taken on this roof, especially in the summer. Thinking about it makes me smile.
Okay, let's break down this outfit.
The jumpsuit is by Mercy, a Canadian womenswear brand from the owners of Gaspard in Toronto. I love camo and military inspired clothing. The fit of this jumpsuit is perfect, it's more streamline than baggy. The belt is hard to see in the photo but it's black cowhide and from the French brand, Maison Boinet. It was my first exposure to the brand and not the last. I got the belt when I bought the jumpsuit because I tried it on together and it was too perfect to say no. I love these Chelsea Boots from another Canadian brand, Brodawka and Friends (visit them at the Queen Street store). They are well made, thanks to a Goodyear welt! These are several years old and have held their streamlined shape perfectly. Finally, my neon yellow earring are from J. Crew who used to have fun statement earrings but I haven't seen anything good lately.
Everything in this photo won the #ggatShopify Battle Royal. They are still in my closet and bringing me much joy.
geekigirl 4 Kondo 0