An Ivory makeunder


My friends at Hill & Knowlton arranged for me to experience an Ivory makeunder. Ivory's current promotion is all about making life easier by simplifying. The makeunder consists of expert advice from hair and make-up stylists who will help you make the most of your natural assets. During the months of May and June, four finalists will be chosen in the Ivory makeunder contest. There is still time to nominate yourself or a friend for the contest. The winner gets a trip for two to Toronto for an Ivory makeunder, a $500 dollar Yorkdale Shopping spree, a spread in Wish magazine and much more.
I arrived at the Tony C salon after work on Friday. I happen to work in the TD Centre so it was super easy to find. Since I don't have hair I missed out on any hair styling tips they could offer. However, I think I've simplified the hair aspect of my routine as much as possible already. I'm a complete idiot when it comes to make up. It's never been something I've been comfortable with; application or the choosing of colours. I was glad to have someone who would actually show me how to apply it correctly.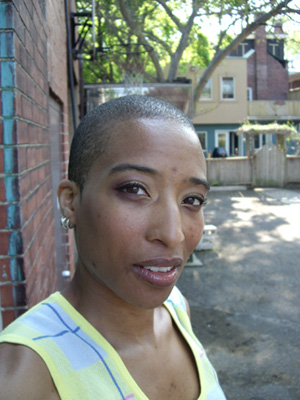 Gretel was my makeup guru and she asked me what I was interested in. I said that I've always been interested in eye makeup but have always been afraid of applying it. I'm pretty much a lip gloss and mascara girl. We started with a dusting of foundation powder and then started into the eyes. Gretel would show me the correct technique on one eye and she let me try it out on the other eye. It was great getting that hands-on practice. Eye shadow application was a three stage process; light colour all over the eyelid, medium colour along the brow bone and a dark colour in the corner of the eye and a little underneath. She used a very light coloured blush to give me just a hint of colour on the cheeks. We finished it off with some clear lip lacquer.
I received a great gift package which contained a cute little bath robe, a kitschy tank top and Ivory soap and bodywash. I was pleased with the results and afterwards I took some notes about techniques and the products she used. I was looking forward to blowing a lot of money on make-up. Unfortunately, the Mac products I made a note of are all discontinued so I'm back to the drawing board colour-wise. Mac turns over their collections frequently. I'll have to spend some time this weekend finding colours because I need to practice my technique.