hat trick – hat, hoodie and scarf from Where Did You Get That?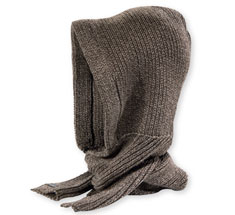 This is the 'all-in-one' defense against winter: The coverage of a hat with the wrap-around protection of a scarf. This blend of cashmere and extra fine merino wool makes this piece exceptionally soft. We are Canadian – we know how to keep warm and look great at the same time.
You can get this from a new Toronto based online retailer called Where did you get that?
Where Did You Get That began with a childhood friendship. As teenagers growing up in Toronto, Canada we shared our clothes, our secrets and an insatiable taste for fashion. But our styles were always very much our own. It's amazing how two people can wear virtually the exact same thing and yet pull off two completely different looks – it is the very essence of personal flair and a perfect reflection of our partnership.

Our differing styles and personalities, experiences and expertise, are echoed in our diverse and evolving collection. Yet our shared standard of quality, uniqueness, beauty and function remain at the heart of every Where Did You Get That find. And it's the find that motivates us to continue hunting and gathering the best of the best, from California to Calcutta, and now to you.

Where Did You Get That is not only a question we've heard time and again over the course of our careers, but it is also one we've been asking each other for 30 years. So while our new venture is a natural culmination of our common passions, pastimes and professional interests, it is the demand for something different that inspired us to create this picturesque portal for all our most fabulous finds.