I was very excited to see the Vawk Spring 2010 show for LG Fashion Week. It was the only offsite show part of the program and it was held in AGO. I wasn't in the glass-and-wood façade area of the building. That would have been a logistical nightmare but oh so fun. There was an open call for fan to show up for first come first serve seats. There was a pretty big line in front of the building and I was really glad for that Media/VIP entrance. It's a life saver.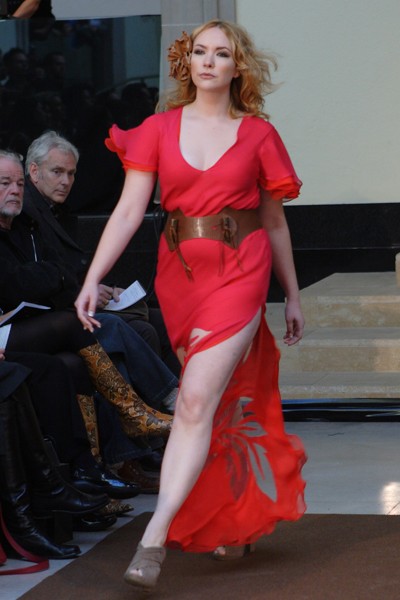 Leading up to the show, Sunny posted a series of preview videos for the collection. If they were embeddable I would have posted them here. He also streamed the show live for viewers that couldn't attend the open call.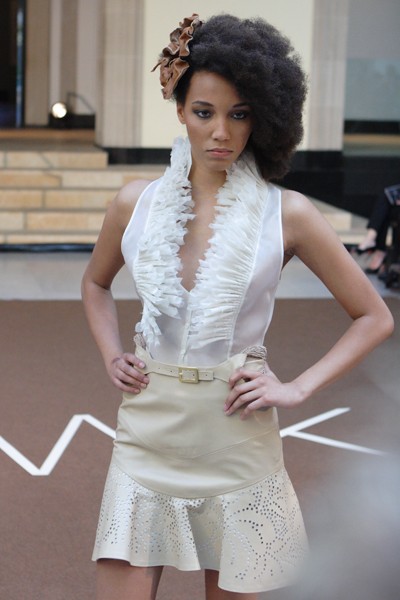 Reading the Vawk line sheet revealed a show full of luxurious fabrics: sand leather, silk cotton, crepe de chine, silk organza and silk chiffon. Sunny Fong was influenced by French Polynesia. This was seen with the bright red and orange colour palette which contrasted against the taupe. The hibiscus flower was a big motif in the collection. It was punched into smooth leathers and cutouts in chiffon. It was only a 12 look show but the looks were strong. A few separates, cocktail dresses and gowns. It was a soft and feminine collection. It wasn't what I expected. I saw Sunny's winning Project Runway Canada collection at LG Fashion Week last season and it was youthful and sexy with a harder edge. This was sexy but in a mature way. I enjoyed the collection and I loved all the leather to bits. I can't say I wasn't disappointed with the direction. Vawk is stepping out into the real world and the freedom go crazy just isn't feasible. Did I mention I find the leathers drool worthy?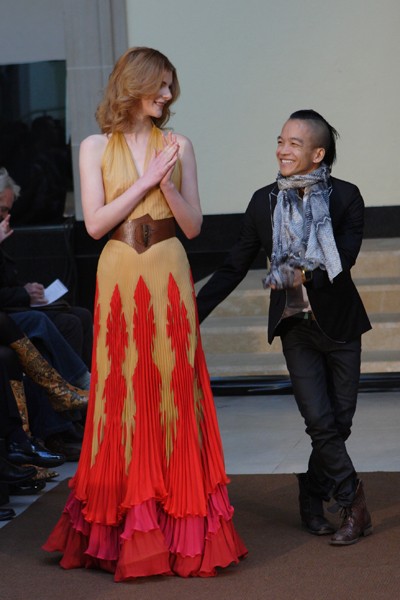 My photos were complete crap. I'm glad my photographer friend Raymund Galsim send me some he took from the photographer's pit. I was also disappointed with the model's choreography. It was great for people in the pit but if you were sitting anywhere other than the front row it wasn't easy. I really wish the models paused at the top of the stairs before descending onto the runway.
The video of the collection is available for viewing
Danielle from FinalFashion.ca is doing paper dolls this season. Check out her Vawk Spring 2010 paper doll.
People are always interested in what I'm wearing and it's a one of a kind Jeremy Laing dress. It makes me feel like a superhero.
images: Raymund Galsim