I've been excited for the Line Knitwear Fall Winter 2010 fashion show since I learned about it from John Muscat and Jennifer Wells. I went to the Fall Winter 2010 Lookbook photoshoot a few months back. I spend the day hanging out with the crew and getting a great preview of all the Fall merchandise.

I was all over it, a full range of textures and weights in knits and the leathers jackets. The collection has all my favourite shapes and details: long, oversized, sheer, chunky and dramatic movement. All the pieces were stylish and functional. I wanted all the looks.
I wanted to see which pieces they would pull and use to present as a collection. They would be presenting a single message for Line Knitwear.  They shot over 100 looks that day, it's a lot of clothing to edit.  I was also interested to see what underpinnings they would come up with to complement.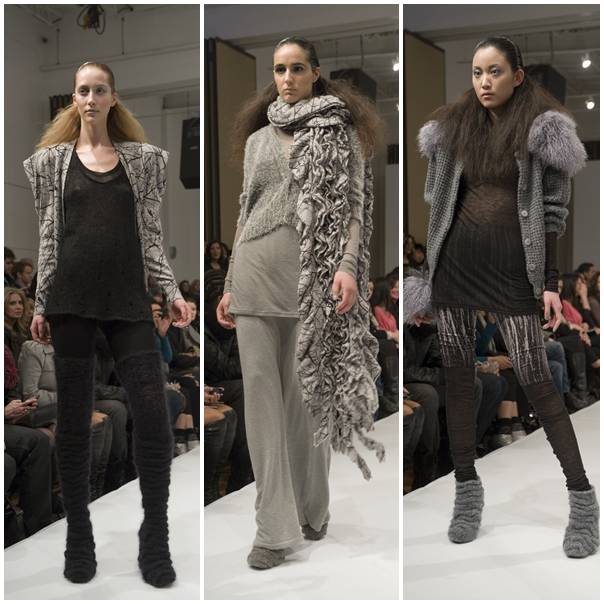 The Line Fall Winter 2010 fashion show was at The Oasi at 99 Sudbury St.  A large warehouse space held the rectangular and raised runway.   You were sitting right up against the runway.  As the models walked out I kept saying to myself, "Why do I know that face?"  Turns out the models are  women with international experience like Alana Zimmer,  Amanda Laine, Addison Gill, Elise Hélène Gatschene and Tara Gill.  Some of them had just returned from fashion month.  I'd been flipping through their images for the last month and it was a minor shock to see them in up close.   I knew John and Jennifer wanted great models for the show and they got them. Hair and makeup were perfect complements to layers of textures.  I stared at knits of all textures: sheer, chunky, hairlike and deconstructed.  Everything was lush and comfy looking without sacrificing fashion.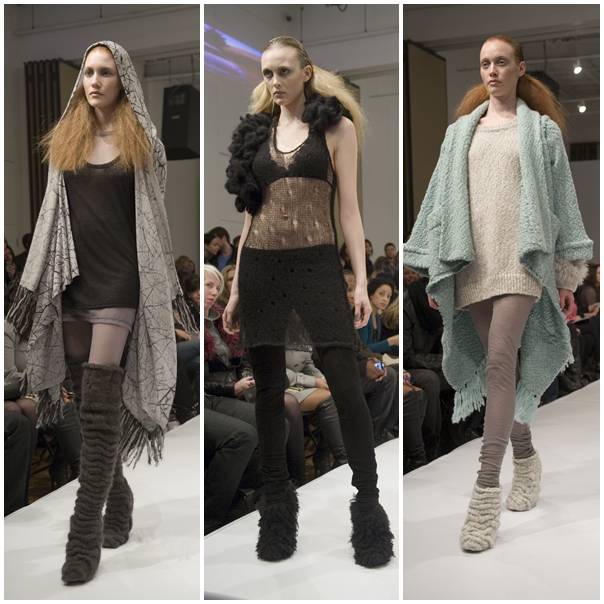 The underpinnings were brilliant.  The models wore slouchy, sheer knit leggings and thermal underwear like bodysuits with exposed full brief panties and occasional nipple.  Knits of all textures covered the shoes.  There were thigh high or little booties with chunky knits or Mongolian hair.  Scarves and wraps were so rich in texture they looked opulent.    I died over the cream and black long ruffled scarves again (I did it first at the lookbook photoshoot).  The clothing was a display of all the different techniques Line Knitwear has to offer in a variety of sweater dresses, cardigans, scarves, ponchos, tank tops, tshirts and sweaters.  The collection stuck to black, grey and crème for the most part but a few looks were in seafoam and coral.  They stuck to a single print which resembled tree branches.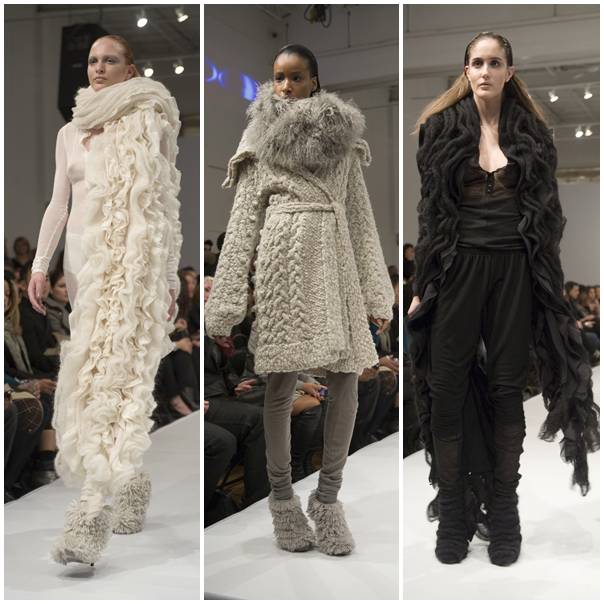 I really enjoyed the show.   John and Jennifer received a well deserved standing O.  Great models and amazing clothing you can't go wrong.  I can't think of a better way to introduce a Canadian success story to the Toronto fashion community.   I received a copy the final lookbook a few days before the show.   It was interesting to see what wasn't shown.  The 40+ looks shown are less than half of what is available for buyers to purse.   Line also does great leather jackets.  I know that Fawn carries them.
See the full collection
Photos of the Line Fashion Show Taken by Paul Baik for I want – I got www.paulbaikphoto.com