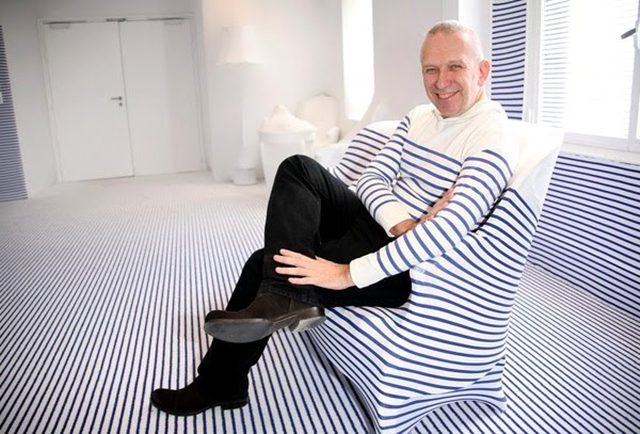 Jean Paul Gaultier is collaborating with French furniture brand Roche Bobois. It will be released in the second half of the year. Gaultier was invited to renovate Elle Decoration suite which is situated on the top floor of the Cité de l'Architecture et du Patrimoine in Paris. It was a former apartment designed by Jacques Carlu, the architect behind the Palais Chaillot in the 1930s.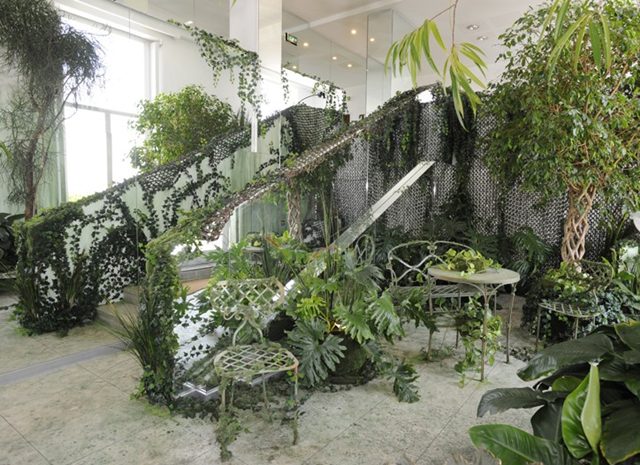 "Clothes are my job, and as I only know how to dress, I dressed this ELLE Decoration suite in the Cité de l'architecture & du patrimoine, with various touches that already grace my collections.
First, the marine touch.
Navy stripes are deployed and deformed on the walls, they are draped and curl around the furniture, a little "marine morphing" lounge that disappears in the white canvas.
Then comes the green touch. Nature opens its doors !
Plants are invited in, a garden is printed on the walls! Ivy weaves into the sofa; lichen grows over the woven chairs in the shade of a tree, and moss, like green velvet, carpets the stone, plants tumble down in steps, hiding in a net.
The nude touch, satin skin :
Fabric unfolds on the walls of the bedroom and forms a powdery velum on the ceiling. The corset dress of a fairground doll becomes the bed's giant quilt. In this room, lingerie, a lace that fishnets on the carpet and is mirrored in the window panes.
For the reflective touch, the terrace !
Paris and the Eiffel tower resonate and multiply in facets shaped like diamonds, jewels, accessories for the sky and clouds, which play on a chequered mirror on the floor, the shiny lining of a cement grey coating.
Clothes have gone from one state to another as we pass from one room to another."
Jean Paul Gaultier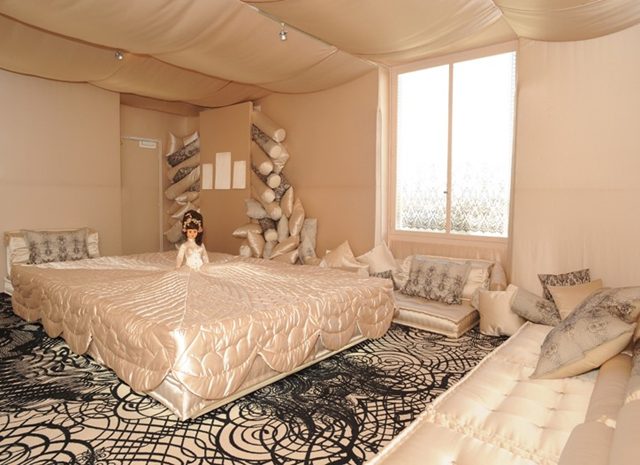 I found a video on elle.fr about the Jean Paul Gaultier project. It's in french but you get a good look at the rooms. The apartment was also decorated by Maison Martin Margiela in 2009 and Christian Lacroix in 2008. I've also dug up video from elle.fr about those individual projects too. Since they all autoplay I've included them under the cut.

images: WWD.com and trendland.net