R 20th Century Design showroom was the first stop of the day.
R 20th Century represents a distinguished group of historical and contemporary designers whose work is among the most innovative and finely crafted of their time.

Zesty Meyers and Evan Snyderman founded R 20th Century in 1997 to realize their combined goal of promoting a closer study, appreciation and preservation of 20th and 21st century design.

R is currently developing exhibitions and publications on the designers it represents — a diverse program that includes work from North America, South America, Europe and Asia produced between 1945 and today.(source)
Evan walked us through the store and talked about some of the artists they represent. He was very friendly, knowledgeable and cute. I was really intrigued by artists Hugo França, Jeff Zimmerman and David Wiseman.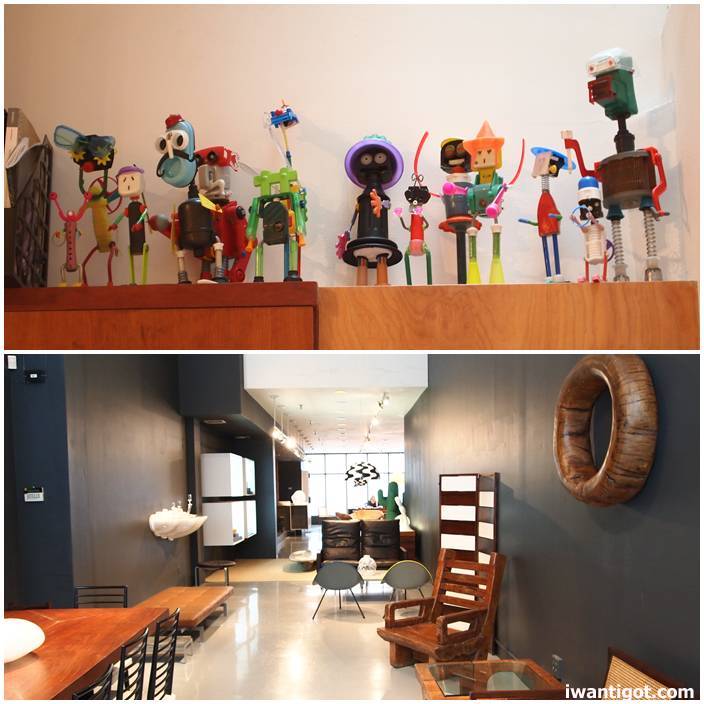 Hugo França creates functional and sculptural work from discarded wood found in Brasil.
Finding wood left behind by deforestation requires constant scouting in the Trancoso, Bahia, area. Finding his way on foot, by donkey or canoe, he relies on the Pataxo Indians, local loggers and on his own knowledge of coastal southern Bahia, which he acquired during the fifteen years he lived there.

As long as the wood has not suffered irreversible damage, all parts of the tree may be utilized. Unearthed roots, trunks and branches are transformed by the artist into one-of-a-kind objects.

Due to the tremendous weight and difficulty in transporting the raw material, the first cuts are executed where the trees are found. And so begins the first signs of tables, benches, chairs and consoles.(source)
R 20th Century Design also publishes books.  I browsed through the book, Hugo França: The Story of the Tree which documents the process he goes through to create a piece.  You can order their books online.
Sculptor, David Wiseman attracted my fashion side because of his work with Dior. The second floor ceiling in the Shanghai Dior store features 500 porcelain lily-of-the-valley blossoms handcrafted by David.  Bronze, glass and crystal are also incorporated into his work.
Wiseman, a Rhode Island School of Design graduate who majored in furniture design, started out with work that was often small in scale — porcelain pomegranates, anime-inspired deer hat hangers, resin castings of fallen branches and a series of off-kilter yet delicate faceted vases in bronze, porcelain and crystal. More recently (thanks to an ambitious ceiling installation, completed several years ago, of porcelain cherry blossoms and intertwined plaster branches), Wiseman has focused on larger-scale projects, including limited-edition chandeliers, for a range of clients from residential to retail. He painstakingly slip-casts the porcelain flowers and fruit himself and works closely with Zalman Aronow, a skilled metal worker, on the branches and blossoms for chandeliers, fireplace screens and wall pieces.(source)
Jeff Zimmerman's handblown glass light fixtures are stunning. Words cannot describe the "Leaf" cluster hanging lamp. It's just stunning and it should be when it comes in at around $80,000.  It's also made to order.
His work evolves and involves idea-based design. His custom work encompasses sculptural chandeliers, lighting environments and glass wall interiors as well as abstract vases and mirrors. Through R 20th Century, Jeff creates site-specific commissions for an exclusive clientele.(source)
R 20th Century Design
82 Franklin Street
New York
This is one post in the series called I want – I got's Bisha Adventure in New York City. Be sure to read the whole I want – I got's Bisha Adventure in New York City series from the beginning. I want – I got would like to thank Matchstick and Bisha for providing for all travel expenses on this day trip to NYC.