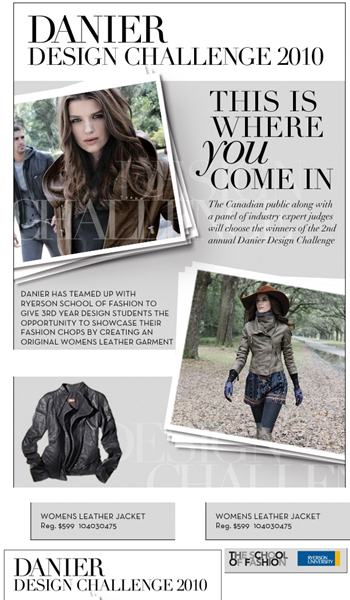 DANIER, Canada's premier leather retailer, is teaming up with Ryerson School of Fashion to reach out to young fashion influencers in the second year of this exciting design initiative.

The DANIER Design Challenge will give 3rd year design students the opportunity to showcase their fashion chops by creating an original women's leather garment design.

That's where YOU come in. The Canadian public along with a panel of expert judges will choose the winners. Last year, John Hillifer was the winning designer – his jacket is in select Danier stores NOW!

YOU will get to vote on danier.com from October 5th to December 22th . Your votes along with those of an industry expert panel — including Robert Ott, Chair of Ryerson School of Fashion, Olga Koel, DANIER's Chief Merchandising Officer, fashion icon and television host Jeanne Beker, fashion stylist George Antonopoulos and Tiyana Grulovic, a fashion style reporter and stylist — will decide who becomes the winner of the DANIER Design Challenge.

Three winners will be awarded a cash prize and the first place designer will get the chance to have his or her design featured in DANIER's fall 2011 collection.