Sponsored



When I was approached to write this sponsored post on Clorox Green Works I was a bit relieved. I used some of their products regularly so I have previous exposure. Like millions of people across North America, I started to become more and more aware of the harmful ingredients in traditional cleaning products. Friends introduced me to alternative natural based ones and I haphazardly started to incorporate them into my home. The main problem with those options was access to stores that carried the products and the high cost associated with them. I would always try to buy the natural alternative but there were times when I couldn't due to money or access issues so I would cheat. Over the past couple of years I've noticed more natural products on the shelves of my local Shopper's Drug Mart. I'm excited about the easy access and lower price points.
Clorox is the first major consumer products company to develop a line of natural cleaning products. They are moving into the market and this is a good thing for consumers. Their distribution and lower production costs make their natural cleaning products more accessible to regular consumers. More and more consumers want to make the change. Now the cost and access barriers are lifting. Ingredients come from items like coconuts, lemons and corn. Green Works products are at least 99% natural in that only 1% of the Ingredients are petroleum derived. They contain no phosphorus or bleach. Clorox defines natural products as derived from natural renewable resource, the material is biodegradable, 99% petrochemical free and not testing on animals (source). Green Works products do not disinfect but Clorox is looking into adding natural disinfecting options in the future.
The Sierra Club has endorsed the Green Works products which also give them more legitimacy in the natural health product market. You can find the Sierra Club logo on the bottle as well as the EPA's Design for the Environment label. The Sierra Club chose to partner with Clorox because the company would be able to meet their goals of making affordable and effective green cleaning products easily available to the public at an affordable price. Partnering with one of the great but smaller companies wouldn't be very effective at making the product available to millions of people because of the access and price barriers. Clorox takes natural cleaning products from a niche market into the mainstream. Green Works products are priced 30 – 50% less than other natural cleaning products available (source). Sierra Club also chose Clorox because they have a better than average environmental performance than other companies.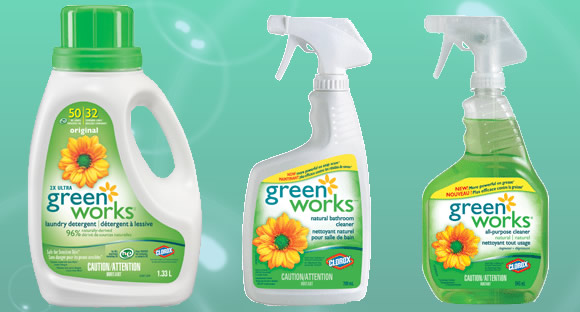 My 1st experience with Green Works was through a sample of laundry detergent. I was surprised it was Clorox.  I went on to buy the bathroom cleaner and all-purpose cleaner for my home. They were very effective and worked just as well as the traditional alternatives. Clorox consumer research has shown that in lab controlled and blind testing Green Works is just as effective as traditional cleaners (source). To facilitate this post Green Works provided me with a package of cleaners including the all-purpose cleaner, natural dilutable cleaner, bathroom cleaner, glass & surface cleaner, dishwashing liquid and cleaning wipes. I'm happy to now be able to try a full range of products.
Green Works is found in the cleaning aisle of most major stores.
Disclosure: This a post about Green Works by Clorox. Clorox hired me to share my experience with their products.