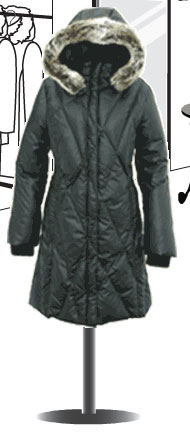 Sometimes readers ask me questions. If they are of value to all my readers I post them online. If you have a question, please feel free to submit it using the contact form. I'll definitely do my best to answer it.
I want – I got reader @ThebergeSwim tweeted:
@ThebergeSwim -Â @geekigirl I'm looking 4 a warm winter coat Preferably fashionable & NOT black. Would like to support local designer #ThebergemovestoToronto
Me – @ThebergeSwim budget?
@ThebergeSwim -Â @geekigirl four to six hundred. Possibly a lil more if totally awesome.
Fashionable and functional are trade off that has to be made for a Canadian winter. I tend to side with function during this time of year. My recommendation is buy a long down jacket so you don't have to layer as much. However, here's a selection of Canadian companies with winter jackets and coats that will cover both spectrums and between. Â Some of these companies might not have fall offerings online yet, but should soon.
RUDSAK – Lots of leather options here. Montreal based but has a store on Queen Street West.
Moose Knuckles Canada – Moose Knuckles is outside of your budget but I included it because it's Canadian.
Canada Goose. – I bash the Canada Goose a lot.  Not because of it's function, I can say that it's a great winter jacket.  My problem is that it seems like everyone in Toronto has one.  I call it the Toronto uniform.  I guess I just have a problem with conformity.  However, many Retailers carry the Goose including sportinglife.ca, Canadianicons.ca, Holt Renfrew and Over the Rainbow.
Downtown Down – Both Cdn Spirit and Johnny Yiu can be purchased on Downtown Down. I purchased a Cdn Spirit down jacket a few winters ago and it's amazing.
Mackage – Montreal based but they are carried at Holt Renfrew, Over the Rainbow and online at ssense.com
Orb Clothing – Vancouver based clothing company. Makes great winter jackets for snowsports as well as more casual options. I wore an Orb jacket during my trip to Whistler this year.
Mountain Equipment Co-op – Definitely more on the functional side but affordable.
TNA – TNA down jackets were the Canada Goose of their time with young women and teens. They aren't as popular anymore but you'll still see a lot of people with them. You can get these at a TNA store or Aritiza.
Soia & Kyo – More fashion than function here. If you aren't looking for a down jacket there are lot of options here.
m0851 – Another company with great leather products. They have a store in Yorkville.
Danier – Can't forget Danier, they've really upped the style quotient of late.
Joe Fresh – I don't know how warm their down jackets are but they do make very affordable ones in bright colours. Store at Queen and Bathurst
Krane – Amazing menswear by Toronto based Ken Chow. I think women can pull the jackets off too.
Philip Sparks – I'm currently dying over this Philip Sparks coat.
UPDATE: The moron in me forgot a great Canadian Coat company, Smythe
Updates August 5, 2011
Stacey Zhang – She also has a store on Queen Street West Store on Queen street has closed. Online Shopping available on her website.
CMFR Canada – There are no retail outlets for these guys listed on the site and no online store as of yet. They have a ton of stockist now. Due West, Sydney's, Ssense.com.
Updates August 6, 2011
Ewanika – She usually has 1 or 2 styles of coats in her fall collection.
Update May 1, 2012 – This post is in dire need of a update.
Sentaler Luxury Alpaca Outerwear – Thanks for nudge to update this post
Company of Adventures – This link is dead but it's sold at The Bay.
Toast Skirts – Not a coat really but still good for cold weather
Update November 4, 2012
OSC Cross – Designed and made in Canada. Available online
PDG by Plenty – West coast retailers house brand. Available online. Retail locations in BC
Nobis – available at The Show Room and online.
Fadedsoul.com – Just discovered this Canadian online shop where you can find brands Nobis and Moose Knuckles
Jacob – Has a selection of wool and down filled coats. Available in store and online
Update November 13, 2012
A reader let me know about Montreal based Sicily Clothing. I never heard of them before but they look like another good alternative to the Goose
Well, I think I'm tapped out of ideas but I feel I'm missing companies. Let me know in the comments!